2019 was a total game-changer for me. I went from half-assing a hobby to creating a sustainable business and did a bunch of cool things along the way – many have left me with fond memories, but I'm glad to see the back of others.
I'm the co-founder of AirShare, a marketplace for flight experiences and charter flights. This includes scenic flights on planes and helicopters, skydiving and hot-air ballooning. We also ride-share any spare spots on the aircraft to reduce customer costs.
Since graduating from UQ in 2017, my plans to move overseas and become a data scientist haven't exactly gone to plan.
Entrepreneurship, particularly in the field of aviation, was not front of mind for me but I'm glad it's where I ended up. 
Ride-share for charter flights
My co-founder, Gauranga Magriplis, and I informally started AirShare at the end of 2017. We had our sights set on building a ride-share platform for charter flights – often dubbed 'Uber for the sky' at the time. As soon as we formed the idea and made a pact to give it a proper crack, we got to work on learning to program.
As we were slugging out coding courses, I remembered a friend talking about UQ's ilab Accelerator program. I started dreaming about how great it would be — a stack of cash, ongoing mentorship, and no equity. Sign me up! Applications were open and, without much clue about our business model or roadmap, I whipped together a submission just in time to meet the deadline.
Preparing for ilab
We were accepted into the ilab Accelerator Bootcamp and I started building the bones of the OG AirShare site. It never made it onto the web, but I thought, hey it would be awesome to spend ages building a site, only for it to fail during our pitch.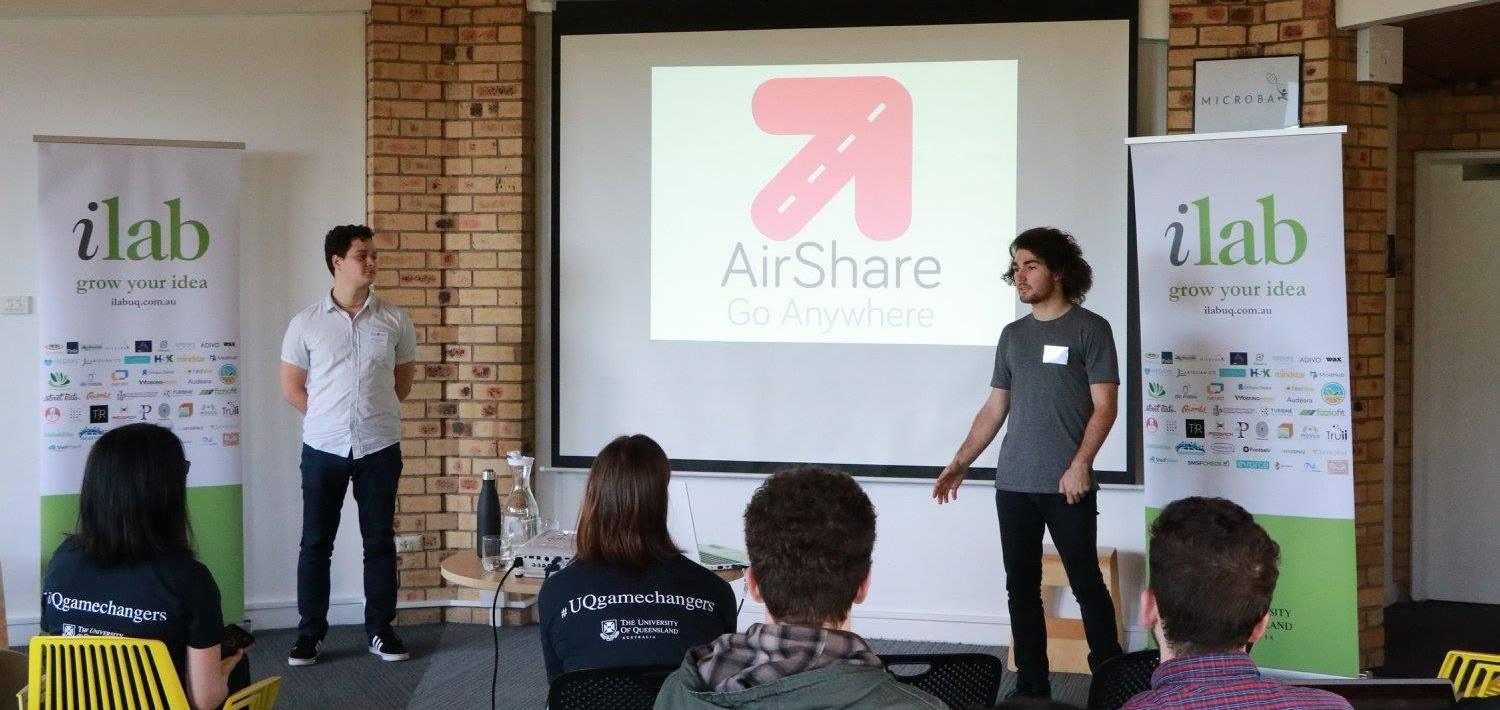 In any case, it was at ilab where we had our first taste of startup-land – what to expect, where to start, how to proceed and so on.
Even though we didn't make the final selection, we gained relevant skills and insights that we should have used far earlier than we did. 
It was beaten into us quick-smart that an idea was all but worthless without execution. This materialised for us when we started approaching charter companies to on-board them throughout 2018. When we pitched the AirShare vision to charter companies, they promptly showed us where said vision can be shoved.
The pivot
We decided that the cart before the horse strategy wouldn't work in a high-ticket industry like aviation.
After several months of pursuing a mostly fruitless strategy, we had to make changes or it was going to be time for us to pack our bags.
So instead of telling charter companies what we were going to do, we started asking them what their biggest problems were. And, that's when we secured our first operator in Brisbane.
There was a mass excess of single seats on scenic flights over Brisbane. It meant that either customers would have to pay extra for the empty seats, or operators were turning them away. So that was our first mission: find solo travellers and provide discounts to fill empty seats.
Knuckling down
From there, we had to fix our biggest problem, which was not enough eyeballs. Naturally, we sought ways to purchase attention without sending ourselves broke. One of our biggest eureka moments came in February 2019 when we finally understood the importance of content.
Gauranga and I spent around 10 hours every day in February pumping out written material. It was painful, laborious and whatever other superlatives come to mind. But that was the moment our website started getting the cherished eyeballs we were looking for.
We expanded from there. We now operate out of 15 locations across Australia and serve more than 500 seats each month.
We're at an extremely exciting part of the journey and the upcoming opportunities are keeping me in a perpetual buzz.
Keeping in touch with UQ
Our ongoing experience with the Accelerator program, part of the UQ Ventures suite of entrepreneurial programs, has been nothing short of awesome. I couldn't speak highly enough of the team and the program as a whole. Even after we were unsuccessful in securing funding, we spent a good portion of 2018 building our product from their co-working space.
Funnily enough, I was recently invited to join the judging panel for the latest ilab Accelerator cohort in December 2019. It was cool to revisit old times and experience ilab from the other side of the stage. This time, it was much less stressful!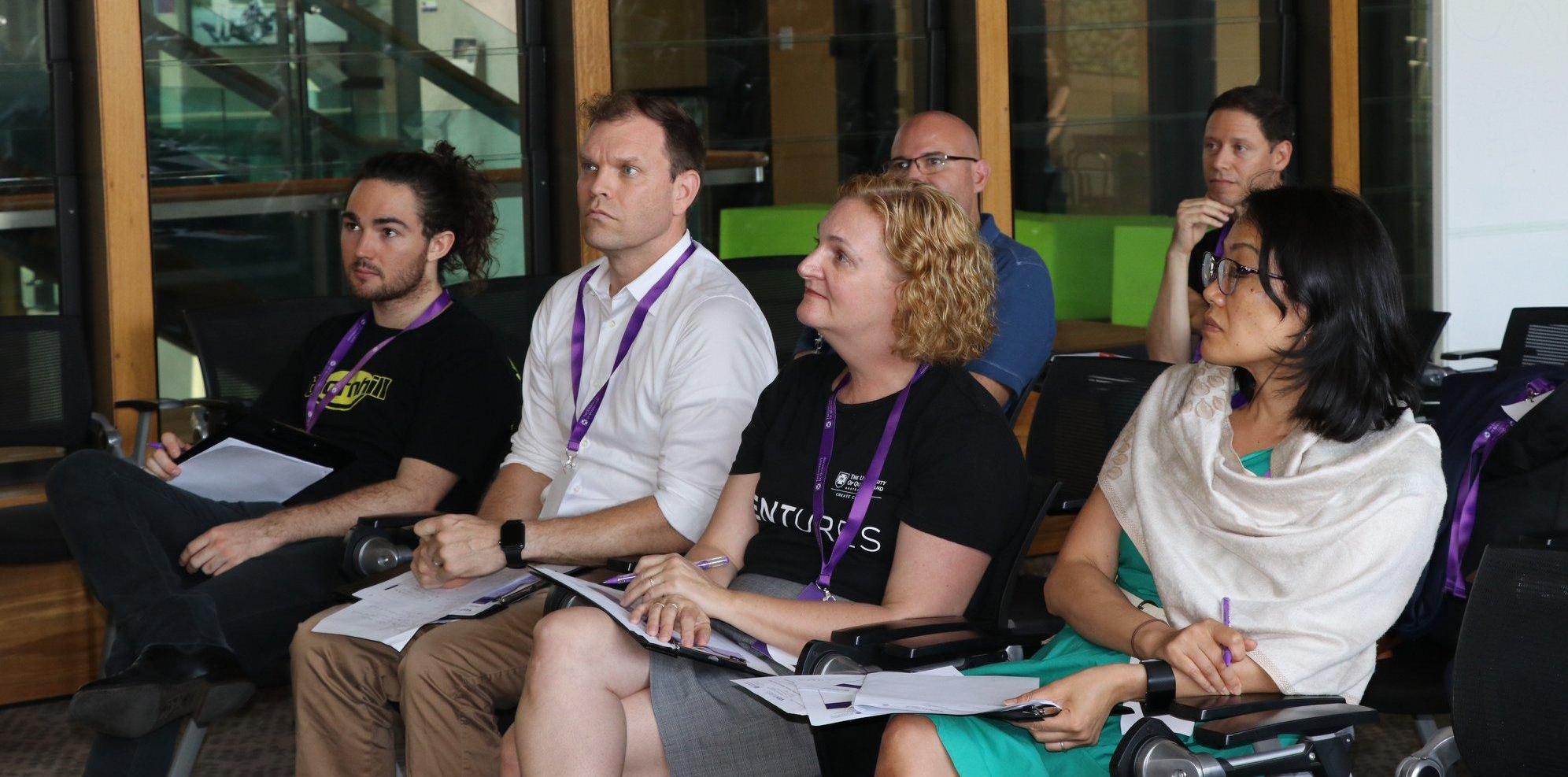 Since our very beginnings, the UQ Ventures staff have regularly kept in touch to see how they can help. They have constantly given their time to provide nuggets of wisdom. On top of that, they regularly connect us with revered people and useful opportunities throughout the wider entrepreneurial ecosystem.
In October, UQ nominated AirShare to showcase at the AmCham (American Chamber of Commerce) tourism gathering in Brisbane. We were among the likes of Virgin Australia, Lime and AIANTA. This paved the way for more awesome connections with some of the big players in our industry.
Just this week, UQ Ventures connected me with the Office of the Queensland Chief Entrepreneur. This led to our inclusion in the 2020 February Tourism Tech Month where I'll join Leanne Kemp, QLD Chief Entrepreneur, for a fireside chat at The Precinct. They're always helping us out with various media coverage and we owe them all a solid!
For now, we're doing everything we can to meet our burly stretch goals over the coming year. It's tiresome, but thank heavens we love it! If you're beginning a startup, you should seriously consider your university's accelerator program. My uni puts on a pretty awesome one.
---
About ilab Accelerator
ilab Accelerator runs for six-months each year and offers a $20,000 equity-free grant to each team. The program also includes workshops, mentoring, an Entrepreneur in Residence, partner deals, desk space and introductions to investors. We welcome startups from all disciplines – from robotics to social enterprises.