Enhance your student experience at UQ through Ventures programs, events and more.
Starting your entrepreneurial journey?
Choose one of our introductory programs or get involved in our upcoming hackathons and events.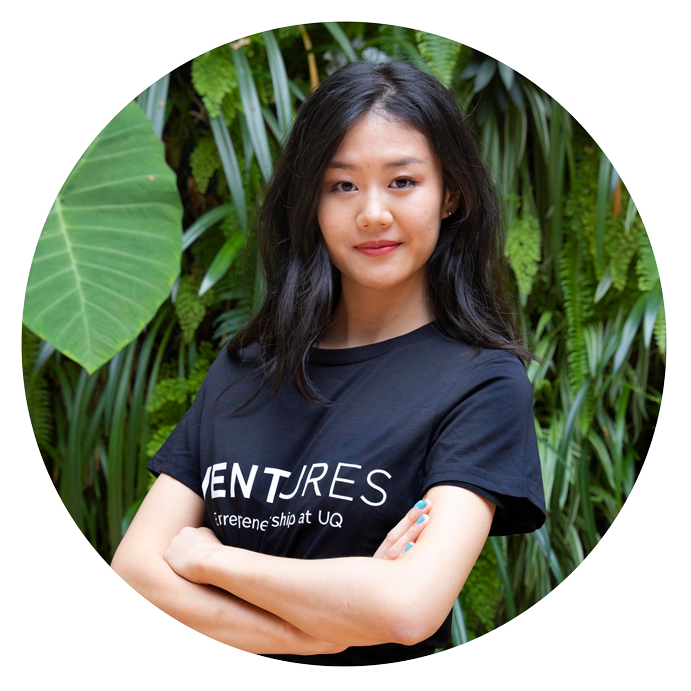 Chief Student Entrepreneur, Rachel Huang.
Chemical engineering/science student and ex-professional tennis player, Rachel Huang, wants to help the UQ community to transform their ideas into tangible products or solutions that can help society to thrive.
Rachel is the fourth UQ Chief Student Entrepreneur to step into the role, which was established in 2018 to lead and mentor the UQ student community to get involved in UQ's entrepreneurship opportunites, from first-year undergraduates right through to post-graduates and PhD candidates. 
"Being an entrepreneur has shaped me to become who I am today. Students shouldn't be scared to start because there are so many wonderful resources and people at UQ who are always willing to help. All it takes is to believe in the idea, make a start, and keep going."
Meet our ambassadors
Our talented Ventures ambassadors join the Chief Student Entrepreneur to represent their faculties and engage new students to broaden the profile and engagement of Ventures across the university.
Our ambassadors can help guide you through your entrepreneurial journey and give you their advice when it comes to Ventures. 
Venture your way
You can mix and match programs depending on your experience. There's support at every stage of your Ventures journey – from flexing your creative muscles to launching a startup.
The UQ Innovation & Entrepreneurship Society is the student society for aspiring entrepreneurs from all UQ faculties. Check out UQIES and find how you can get involved.
Ventures Student Newsletter
The Ventures Student Newsletter is a newsletter for student across all levels and backgrounds at UQ. Subscribe to find out about the latest student opportunities, news, programs and events.