Join our Ventures Consults every second Wednesday 12:00-2:00pm.
Fortnightly our Chief Student Entrepreneur, Ventures Ambassadors or Ventures staff, will be available for informal Q&A and discussions. This is your opportunity to better understand the Ventures programs and activities on offer and to gain further connections with the UQ entrepreneurship ecosystem.
No booking required! Jump on the Zoom link or drop by ground floor Global Change Institute Building (20) between 12-2pm Wednesday 4 November and chat with Sam Pavin on Zoom, or meet with Tomas Piccinini in person. Once connected on Zoom, you will be placed in the Zoom waiting room and invited one at a time to chat.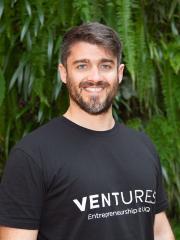 Tomas is a program officer with UQ's Ventures team. He leads and coordinates the design and delivery of entrepreneurship and design thinking programs (Social Enterprise, Start-up Academy and the high-school oriented Discovery workshops). Before joining the Ventures team, he studied a Master of Business at UQ, specialising in Social Impact & Sustainability and was a teaching assistant for Social Entrepreneurship and System Dynamics courses at the UQ Business School. Before moving to Australia, he occupied corporate finance positions in multinational companies such as Accenture and IBM. He also has more than 10 years of facilitation experience across multiple sectors (personal development, sports and education). Tomas is passionate about solving social and environmental issues through entrepreneurial initiatives. This comes through in his work with social enterprises and young social entrepreneurs to help grow the community and the impact it can have in the world. Tomas is from Buenos Aires, Argentina. He doesn't Tango, but he knows a thing or two about barbecues.
Sam leads marketing, communications and operations for the ilab Accelerator program, within the broader UQ Ventures suite of entrepreneurial programs and activities. He also participates in the ilab Accelerator and other programs as a mentor and advisor. 
About Connect
Meet like-minded students, connect with the Ventures team, and hear from inspirational speakers with our Ventures Connect community events.
Ventures Connect: 
Ventures Connect brings you the latest opportunities to connect with the Ventures team, inspirational speakers, mentors, and broader startup ecosystem. Ventures reguarly holds events for the student community to help you stay connected and take part in all the entrepreneurial fun.
All UQ students, staff, and alumni are welcome to join these events unless otherwise specified. 
Venue
Online - Zoom meeting (Click the button in the text)
In person - Ground floor, Global Change Institute Building (20), St Lucia campus
Room:
Zoom link / Ventures GCI Space