Four UQ students have taken home $10,000 after competing against 100 other students to win the 2021 #TransformLaw KWM Prize 
Their innovative solution, 'PEAM' – is an AI sentiment analysis tool that helps individuals better prepare themselves for the mediation phase of the family law process.
Often costing about $20,000, sometimes up to $300,000, family court is expensive and as a result, many individuals choose to represent themselves.
This can present a range of challenges to the legal system but also causes high emotions and stress for the self-representing litigants (SRLs) – often impacting the outcomes for individuals and families involved.
This unique issue was something the students were determined to tackle.
2021 #TransformLaw Winning team members
Grace Beattie (Bachelor of Science (Psychology)/ Bachelor of Laws (Honours)),
Félix Hall (Bachelor of Computer Science)
Leidi Peng (Bachelor of Commerce/ Bachelor of Laws (Honours))
Nelson Prichard (Bachelor of Politics, Philosophy and Economics (Honours))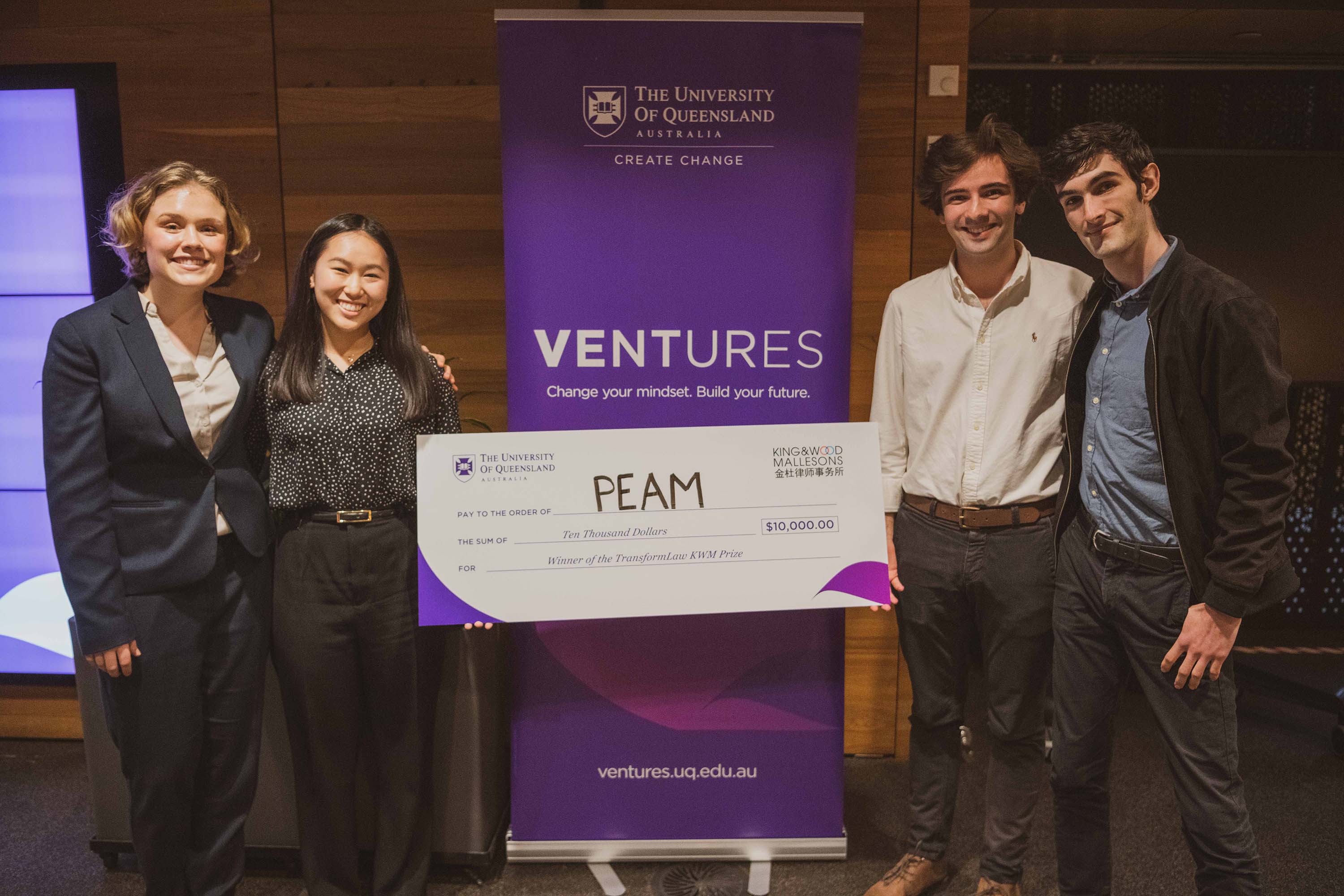 Bachelor of Commerce/Bachelor of Laws (Honours) student Leidi Peng explained that PEAM (Preparing Emotionally Aware Mediation) is a solutions-focused innovation that helps SRLs prepare for mediation in family law, enabling more meaningful and constructive solutions.
"After interviewing a wide array of stakeholders, we really empathised with these self-representing litigants," Leidi said.
"Many of them mentioned the stress and mental health issues resulting from the heavy workload and difficulty detaching emotions when problem-solving, especially after experiencing traumatic family breakdowns," she said
"We wanted to create something to truly support them and achieve better outcomes for everyone."
Bachelor of Science (Psychology)/ Bachelor of Laws (Honours) student Grace Beattie said PEAM makes mediation cheaper and more accessible, leading to stronger solutions for families.
"40 per cent of family law cases are resolved through mediation and the other 60 per cent either are settled in court or the parties simply run out of money or get sick of the process," Grace said.
"That's why it's so important to help parties reach strong and lasting agreements through mediation. They don't want to end up back in the system."