Interview with a founder: Hand Plus Robotics
Written by Ahmad Abu-Aysha, Bachelor of Engineering (Honours)
In November 2022, I was incredibly fortunate to have the opportunity to head to vibrant Singapore as one of 35 UQ students taking part in UQ Ventures Startup AdVentures. We were to spend a month placed with various startups around Singapore to get an insight into startup life, and gain valuable experience in this diverse, dynamic and lively hub.
Accelerating Asia, UQ Ventures' partner organisation in Singapore, placed me with four other students at Hand Plus Robotics. While it was challenging at times, I thoroughly enjoyed my time becoming more acquainted with Robot Operating Systems (ROS), motion planning and kinematics of robots, with a helping of electrical and mechanical hardware tasks.
I felt that one of the most impactful things I could share from my experience in Singapore was sharing the details of my interview with Dr Causo, my host and mentor, about startup life.
Introduction – Who is Dr Albert Causo?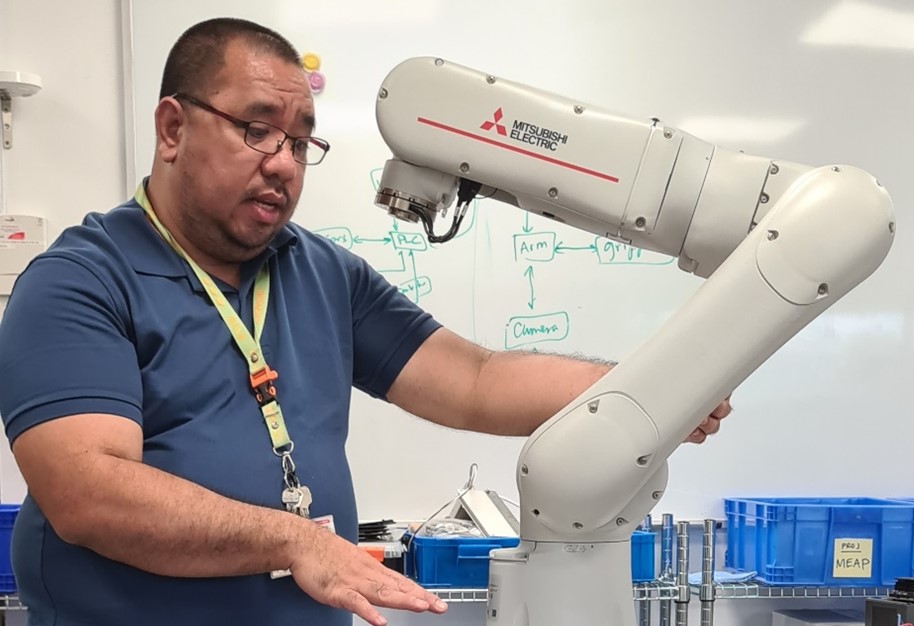 Dr Albert Causo is a roboticist, CEO and co-founder of Hand Plus Robotics based at Nanyang Technological University (NTU) in Singapore. With such a title it's easy to imagine how precious his time is, making this interview a valuable opportunity to pick his brain. I began by asking him to tell us about himself and his journey thus far.
Before his foray into tech startups, Dr Causo spent 12 years as a Senior Research Fellow at NTU's robotics research division. Prior to this, he had been a graduate student in Japan where he earned his PhD in robotics. His undergraduate education in the the Philippines was in Chemistry, and he later added Computer Engineering to his degree as he learned more about control and its role in engineering and robotics.
Q: Tell us about Hand Plus and how it started
Hand Plus was incorporated in 2018, but the story began in 2015, when Dr Causo and his co-founders were researchers at NTU, at which point he had been a postdoc for 5 years.
"Usually, after being a postdoc for 5 years, you leave and go somewhere else" he says.
If he had, Hand Plus may never have formed. When Amazon announced their Amazon Picking Challenge (APC) in 2015, Dr Causo's research supervisor Professor Chen I-Ming noted that the research team had the full spread of skills required to develop the whole system for the competition, which called for robots that could accomplish a range of warehouse related picking tasks. Dr Causo was working with robotics in education at the time, and was chosen to lead the team. They fielded an extremely competitive robot which would have taken out the top honours, (ahead of MIT!) had it not been for a technical glitch at a critical moment in the competition.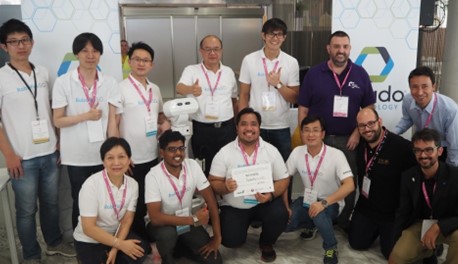 Dr Causo and his team were deeply disappointed, and Dr Causo pledged to win the competition at the next opportunity. He and the team followed through with that pledge, and won the competition outright in 2017, which led to a flurry of interest by companies in Singapore in robotic picking applications.
The team discussed potentially developing commercially focused on picking robots, but due to concerns about meeting performance guarantees, the University did not want to engage. Subsequently, the team entered several more robotics challenges which they also won. The realization dawned on them that despite the variety of hardware they worked with, the software package they deployed every time was fairly consistent. This ended up forming the core business of Hand Plus, which spun off soon after, initiated by several of the research team.
"The magic in the robot, is the software" explains Dr Causo, "and it's what makes Hand Plus special".
Q: Changing focus to the startup side, let's go back to where you started out, describe your journey so far in startups.
Dr Causo's journey in business started from his childhood. He learned at a young age what was possible to achieve by striking out on his own. By gathering onions that didn't appear fit for sale from his parents' vegetable stall, be removed the unappealing outer layer and repackaged them for sale. Ever since, he has been making forays into the business world, in fields such as workplace training delivery, wedding invitations, and more recently robotics in education and construction. Hand Plus Robotics is the third official startup he is involved in.
 "My wife says I am afraid of getting bored" he says, with a chuckle.
Q: What are some of the most significant lessons you've learned so far about startups?
There are far too many lessons to relate, says Dr Causo, but he stresses the importance of having the right people when founding. Choose your co-founders with great care – assess them the way you would assess any potential investment.
"Founders will make or break a company, find co-founders that will really contribute, not just conceptually, but who will really be there".
Find good partners: Deeply evaluate your potential partners. Dr Causo then explains that potential partners (and founders in general) should have grit, intelligence, a strong work ethic, and have a healthy appetite for risk.
Arm yourself with the knowledge of what it takes to run a business: Not just the technical aspects of the business, but being able to interpret data in all applicable domains such as financial data, legal compliance and HR information.
"As a founder, the buck stops with you. No one else will make those decisions for you, and these are the things that keep founders awake at night, not the technical issues".
Money in tech startups: Don't stress too much about finding investors, if you have a viable product, they will come. Not everything will be important to investors at any one time. In the initial stages, the founders and their credibility will be the main focus. Soon after, investors will want to see the product. Scaling, market conditions and composition become important after that.
Have a support network: Founders try to be superman, and want to do everything themselves. Resist the urge when possible. You will become the bottleneck, and will become myopic when stressed.
Make sure that the people closest to you are part of your startup journey: Without them you will have a difficult time achieving your goals. Your closest friends and allies will also be important to give you honest feedback, to hold you accountable to yourself, to help you reflect, to keep you grounded and not to be absorbed in your investors' agendas.
The environment: In Hand Plus' case, Singapore was chosen for many reasons. It's very pro-business, has solid and reliable legal and administrative processes and is well-respected worldwide. It's easy to source labour and parts, and is close to a lot of large asian markets, with good engineering labour availability in Malaysia. Singapore is also a testbed for new products and services as many large multinationals have smaller operations in Singapore which can then lead to larger contracts elsewhere as they refine and scale operations.
Q: Where to next for yourself and Hand Plus Robotics?
Hand Plus Robotics is currently pivoting – the founding team thought they could build anything because they had the software solution. As a result, they have been trying to develop too wide a variety of products. This is prompting the team to attempt to transition to a more standardised way of developing their products and streamlining integration. Dr Causo is going on a break during the holiday season, where he intends to consider which changes will create the most benefit for the future of the company.
A huge thank you to Dr Albert Causo and to Reeve Zheng-Hao Chong, for hosting us at Hand Plus Robotics and for the stimulating and challenging experience we gained.