As part of the 2020 Ventures Industry Challenge we will be inviting a number of industry mentors for you to book a 30-minute private mentoring session with.
This year's challenge focuses on the problems and opportunities for the global water industry:
While the global population continues to grow, access to fresh water has become increasingly scarce. How can we use water resource management and sustainability to maintain the lives and industries of communities around the world?
By participating in the mentor sessions you will be able to:
showcase your entrepreneurial skills to industry experts,
build your networks,
strengthen your entrepreneurial skills, and
address a real problem worth solving, 
See mentor details and availability below.
Our mentor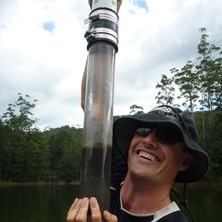 Dr Alistair Grinham joined UQ School of Civil Engineering in 2007 to work in the area of sediment biogeochemical cycling in freshwater storages and coastal lagoons. He has a background in biochemistry and marine biology focusing on Southern Ocean food webs. His primary research activities have been developing novel monitoring systems of catchments and their receiving water bodies. Dr Grinham is passionate about monitoring and understanding biogeochemical processes within shallow water ecosystems, also focussing on monitoring sediment loading and greenhouse gas emissions from sub-tropical coastal and freshwater systems.
What can Alistair help with?
shallow water ecosystems
catchment monitoring
greenhouse gas emissions
sediment loading
biogeochemical processes
The available time slots are: 
12.00-12.30pm & 12.30-1.00pm
Please include a brief background of your team in the comments box via StudentHub when booking your appointment. 
About Connect
Meet like-minded students, connect with the Ventures team, and hear from inspirational speakers with our Ventures Connect community events.
Ventures Connect: 
Ventures Connect brings you the latest opportunities to connect with the Ventures team, inspirational speakers, mentors, and broader startup ecosystem. Ventures reguarly holds events for the student community to help you stay connected and take part in all the entrepreneurial fun.
All UQ students, staff, and alumni are welcome to join these events unless otherwise specified.