Ventures Industry Challenge mentor appointments: 7 September
7 September 2020

9:00am

–

10:00am
As part of the 2020 Ventures Industry Challenge we will be inviting a number of industry mentors for you to book a 30-minute private mentoring session with.
This year's challenge focuses on the problems and opportunities for the global water industry:
While the global population continues to grow, access to fresh water has become increasingly scarce. How can we use water resource management and sustainability to maintain the lives and industries of communities around the world?
By participating in the mentor sessions you will be able to:
showcase your entrepreneurial skills to industry experts,
build your networks,
strengthen your entrepreneurial skills, and
address a real problem worth solving, 
See mentor details and availability below.
Our mentor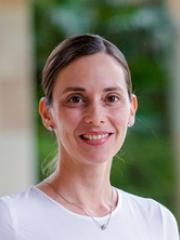 Belinda is a lecturer within the Strategy and Entrepreneurship Discipline of the Business School and co-leader of the interdisciplinary school research theme - Business Sustainability Initiative: Building Resilience and Adapting to Change. Co-ordinating courses TIMS7317 Corporate Sustainability and TIMS7328 Strategies for Business Sustainability and Innovation Belinda's teaching closely follows her research agenda which examines organisational capabilities for an accelerated transformation to a sustainable future. Recent research has highlighted decarbonising actions taken within contrasting Australian industry sectors and the dynamic capabilities which can promote greater adaptation to market changes related to the growing pressure to decarbonise the Australian economy. On a professional level Belinda has worked extensively within the marketing and trading areas of major energy providers, in a mix of commercial analytical, trading and managerial roles in both traditional energy and environmental product markets.
What can Belinda help with?
corporate sustainability
innovation
sustainable futures
The available time slots are: 
Dr Belinda Wade: 09.00-09.30am & 09.30-10.00am
Please include a brief background of your team and your topic (i.e. natural disasters, water pollution, community engagement, healthy water quality) in the comments box via StudentHub when booking your appointment. 
About Connect
Meet like-minded students, connect with the Ventures team, and hear from inspirational speakers with our Ventures Connect community events.
Ventures Connect: 
Ventures Connect brings you the latest opportunities to connect with the Ventures team, inspirational speakers, mentors, and broader startup ecosystem. Ventures reguarly holds events for the student community to help you stay connected and take part in all the entrepreneurial fun.
All UQ students, staff, and alumni are welcome to join these events unless otherwise specified.