Early-stage investment is a critical part of the commercialisation and a powerful source of financing for high growth companies. 
There is a growing need in Australia for a robust education framework to provide early-stage investors with the tools they need to make sound investment decisions and build a purposeful and profitable investment portfolio.
UQ Ventures, in partnership with Angel Loop, is presenting potential investors with case studies, expert presentations and facilitated discussions designed to help you learn how to successfully identify, evaluate and manage your own personal early-stage investment portfolio.
"UQ's Financial Literacy certificate has provided me with the angel investment tools to start my startup investment portfolio. I now feel confident and my decision making process has been significantly strengthened. Therefore, I would like to strongly recommend this course to every potential investor. Simon's delivery was 10 out 10." – Luis Arroyo
---
Upcoming Workshop:
Brisbane
Date: Thursday 29 February - Friday 1 March 2024
Location: 308 Queen Street, Brisbane City
Cost: $1750 (including GST)
This course provides the necessary financial literacy pathways to enable attendees to be recognised as sophisticated investors under Section 761GA of the Corporations Act, 2001. According to the Financial Adviser Standards and Ethics Authority (FASEA) Code of Ethics, wealth is not the sole determinate of whether an investor is a sophisticated/wholesale investor with respect to early-stage investments. 
Overview
Who the course is for?
Any member of the public who is interested in investing in Australian innovations.
Objective of course
Participants will learn how to:
assess the merits of an investment
understand the value proposition of that investment
understand the risks associated with holding that investment
can make independent decisions based on the adequacy of the information provided about that investment
Topics covered in the course
Culture of innovation and entrepreneurship in Australia
Startup ecosystem – where do Angels fit
The risk involved – investment thesis and startup economics

Portfolio theory and construction

How to identify opportunities

How can you help a startup

Negotiation, term sheets and deal economics
Assessment and due diligence
Role of Angel Groups
Deal syndication
Concepts
Introduction to Angel Investing
Culture of innovation and entrepreneurship in Australia
Current funding landscape
Role of Angel Investor Groups
Understanding your motivation and risk tolerance
What does success look like?
Evaluating Opportunities 
Risks and returns of a broad portfolio
How to build a portfolio
Where to source opportunities
Personal investment roles and responsibilities
Tax incentives
Negotiating
Understanding the term sheet
Negotiating deal terms
Types of investments: shares or convertible loan
Deal economics, management & control, protection, exits & liquidity
Valuations and methodologies and negotiations
Cap Table, Employee Share schemes and capital return to investors
Thinking about later follow-on rounds
Portfolio Management
Being Non-Executive Director (mentoring and coaching)
Challenges in startups (e.g. early sales traction, growth and employment)
Managing your portfolio (gaps / overlaps / themes / balance)
---
Disclaimer
This course is designed to provide financial literacy educational content only. A Financial Services Licensee is required to assess the attendee's experience to be recognised as a Sophisticated Investor under Sect 761GA of the Corporations Act. That decision is wholly at the discretion of the Licensee and is in accordance with the Act.
Angel Loop is a Registered Charity (QLD) that promotes a culture of Innovation and Entrepreneurship through the promotion of a culture of Investment where financial returns may not be the primary consideration in choosing to invest to bringing public utility innovations to commercial fruition.
Course:
Cost: $1750 - including GST
Included: two-day workshop (one theory / one practical) plus a year free membership to an Angel Loop supported Angel Group.
Please note: if you are unable to join due to feeling unwell, a full refund will be offered upon presentation of supporting documents.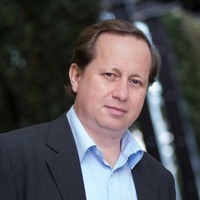 Simon Horne is an Angel Investor and currently CEO of Australia's largest Angel Investor network Angel Loop which has grown to 17 groups across Queensland and New South Wales. Previously he had 15 years of international entrepreneurial experience having started a number of businesses in Asia and more recently in the US.
The most successful was the Silicon Valley startup BlueJeans where he joined as employee #1 and helped formulate the idea, assisted getting the initial funding and was part the foundation team in 2009/10. The cloud-based Video Conferencing platform has gone on to raise USD175 million from valley VC firms including Accel Partners, New Enterprise Associates, Battery Ventures & Norwest Venture partners. It employs over 600 people and exited to Verizon for USD500 million in June 2020.
Course registration
Cost: $1750 - including GST
Included: 2 day workshop (1 theory / 1 practical) + 1 year free membership to an Angel Loop supported Angel Group.