A startup designed to make composting easier and more efficient has taken out top prize at The University of Queensland's Accelerator Pitch Night.
Business and IT graduate turned cleantech entrepreneur, Ashley Baxter, won the Shane Chidgzey Young Entrepreneurs Prize for her startup, EarthOffset, one of 10 startups showcased in the culmination of the six-month accelerator program run by ilab.  
"EarthOffset is now at proof of principal development stage meaning it's nearly ready to move onto development for manufacture and roll out for commercial use really soon," Ms Baxter said.
"The device supports home and community composters to have fast, clean and emissions-free compost by monitoring decomposition and delivering insights through an app."
Ms Baxter, who celebrated the win on her 23rd birthday, said she'll use the $5000 prize to help launch the technology early next year.
"The ilab Accelerator program has been a truly amazing experience.
"For someone so new to the entrepreneurship space, I didn't think my life would take this direction. However, I'm thrilled that it has.
"My world has opened up now and I can contribute to making sustainability possible for more people in the future."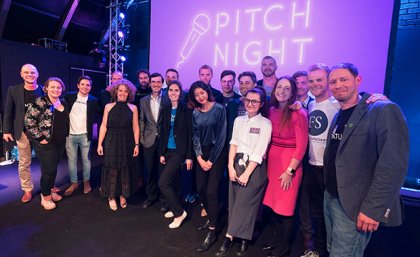 The 2019 ilab Accelerator cohort also included Beome, Brandtools, ClearSKY Genomics, EarthOffset, Fiffy Solutions, Homecube, Ocean Orchards, ParaSpace, Powersphere and PowerWells.
Founders pitched startups and social enterprises ranging from wind turbine design to VR training and med-tech to a panel of industry experts including Queensland Chief Entrepreneur Leanne Kemp.
Ms Kemp said the group of founders were talented and committed, with each demonstrating the importance of solving the grand challenges of the future.
"EarthOffset also showed how startups are thinking beyond our shores and reimagining waste streams as a commodity, just like oil or wheat," Ms Kemp said.
"I am happy to see that Queensland has an increased awareness of recycled products from items such as aluminium cans and food waste to rare earth minerals and recycled batteries."
The event, which was emceed by UQ alumna and co-founder and General Manager of MTB Direct, Jen Geale, also featured a chance for each founder to showcase their products and technologies, and to network with potential investors. 
UQ Ventures Entrepreneur in Residence, the founder and CEO of Haystack, Ran Heimann, said each startup undertook a significant journey throughout the past six months.
"Being a founder is not about coming up with a great idea," Mr Heimann said.
"It is the mindset and passion of waking up every morning to execute an idea that hopefully makes a positive difference in the world."
More than 200 startup companies have been created through ilab since 2012.
"ilab startups have gone on to raise more than $75 million to grow and commercialise innovative products and solutions on a global scale," Mr Heimann said.
"This sends a strong message to students and alumni that Queensland, and UQ, is a great place to start and build sustainable businesses."
The ilab Accelerator program is part of the UQ Ventures suite of entrepreneurial programs and courses. 
Media: ilab Director Bernie Woodcroft, bernie.woodcroft@uq.edu.au, 0402 893 117.