Joining The University of Queensland as Entrepreneur in Residence is a homecoming for Marc Orchard.
Marc graduated from UQ in 2009 with a Bachelor of Business Management, and always had a strong interest in entrepreneurship.
"When I was at university, I wanted to run my own business and be in entrepreneurship," he said.
"I was just a little bit early, so there weren't all these entrepreneurship programs when I was at UQ."
After finishing university, Marc started a financial planning firm, which he sold in 2015.
"I made every single small business mistake that was able to be made, which was great because it meant that I hoped I'd never have to do that again if I'm running my own business."
This has given Marc a passion for working with other startups and scaleups to help them avoid the pitfalls of starting a new business.
"It's nice to work with someone who is able to be the Dumbledore to your Harry, who can be the person thinking three steps ahead to make sure that you don't trip on something you could have avoided."
After selling his startup, Marc came back to UQ as Young Alumni Engagement Officer.
"Running the young alumni program after having to deal with all the heaviness of running a business was an absolute bliss state for me," he said.
He then worked in a number of roles supporting startups, including Director of Startups for BDO Australia, and Talent Program Director for fin-tech startup Swyftx.
Earlier this year, Marc started Planet Startup, a startup and venture growth firm for Australian early stage, high-growth companies.
It seemed like perfect timing when UQ approached him to become an Entrepreneur in Residence.
"I came to university to learn how to run my own business. I have done that successfully, and now being able to come back to UQ and support other people with similar ambitions a blessing and a privilege."
He says he's looking forward to helping some of Queensland's most exciting new businesses get their start.
"Between now and the Olympics in 2032, some of the best companies that we're going to celebrate in 10 years will be made in the next two to three years, and I'm hoping that ilab will very much be part of that journey for a lot of founders."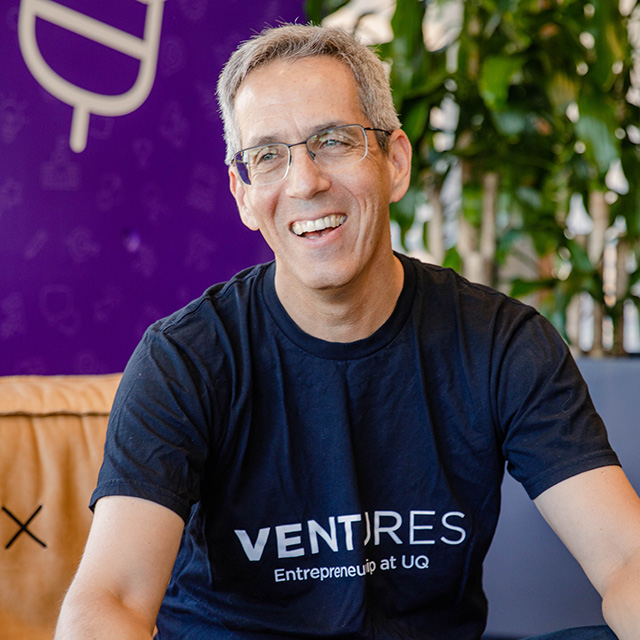 Nimrod Klayman, Head of Entrepreneurship, said Marc's appointment was a great win, not only for the ilab Accelerator program, but for the University more broadly.
"I am thrilled to welcome Marc back to UQ. His energy, enthusiasm, and diverse experience with early start founders makes him the perfect ambassador to lead our entrepreneurial students.
"Alongside fellow Entrepreneur in Residence Zoe Black, Marc will share his knowledge and expertise, helping students and researchers make the most of their ideas and turn breakthroughs into sustainable businesses and social enterprises."
Marc also wants to encourage everyone, not just budding entrepreneurs, to get involved with Ventures.
"Whether you're a student, a staff member, a faculty member or an alumni, there are so many ways that everybody can get involved with the Ventures community – whether that's as a supporter, as a potential client, as a potential partner or certainly as a potential founder."
"UQ has so much potential to change the world."