How does a country with less than ten million citizens and no natural resources to speak of, go from inception to global innovative powerhouse in little more than half a century?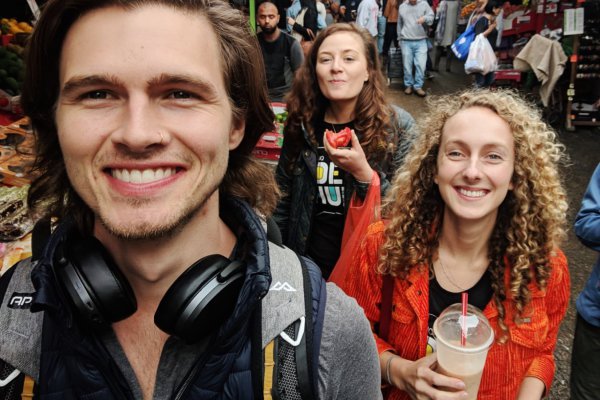 This was one of the questions that spurred me into applying for the UQ Idea Hub Startup Adventure to Tel Aviv.
Israel has gone from a country of migrants surrounded by unwelcoming neighbours, to a country whose prowess in high-tech industries is arguably unmatched. The country's technical proficiency, driven by its entrepreneurial spirit and hunger, has earned it the title of 'The Startup Nation'.
Here are some stats that help outline the extent of Israel's entrepreneurial dominance.
Israel has the:
largest number of startups per capita in the world
highest venture capital investment per capita
highest R&D spending in the world as a percentage of its GDP (more than four per cent)
How has Israel managed to do this?
Below I'm going to outline some of the things that I think have contributed to Israel's ongoing startup success, having spent a month embedded within the entrepreneurial ecosystem in Tel Aviv. While they're only a small part of the fascinating story of The Startup Nation, they're what have been most salient over my month here.
Israelis are direct
In general communication and especially when providing feedback, Israelis will tell you what they think in no uncertain terms. There's no beating around the bush - just blunt, forthright communication.
It's amazing.
What some may think of as a bit rude at times, I found to be refreshing and freeing.
I didn't realise how much time and emotional energy we waste trying to read the real message behind what's actually being said Australia. My experience in Israel has made me reflect that in Australia (and perhaps the rest of the West) we seem so intent on not hurting people's feelings that we skirt around issues and give feedback that's not entirely honest. This seems to be true for business relationships as well as personal relationships.
The Israeli no BS approach to communication is invaluable. It's epistemically superior as the candid conversation leads to shorter learning cycles, meaning that in the rapidly changing digital world they can adapt faster than other startups around the world trying to sugarcoat and obfuscate necessary valuable feedback.
National service
Whether or not one agrees with mandatory national military service, it's hard not to see how it has helped Israelis with their entrepreneurial success. Many of the Israelis I have met has a dogged drive to succeed and the discipline to go with it, which some of the locals I have met attribute to their time in service. One of the units in the Israeli Intelligence Corp, Unit 8200, is notorious for helping create successful entrepreneurs. One of the most notable is the founder of the web-giant Wix, Avishai Abrahami. He said that from "from [his] generation, there are more than 100 guys from the unit that [he] personally knew who built startups and sold them for a lot of money."
Lack of natural resources
Unlike Australia where we have a continent's worth of natural wealth to exploit, Israel is rather barren. This, combined with the instability of the region I think has pushed people to be more inventive and entrepreneurial, pushing them to tap into global markets (made especially accessible by the internet) rather than try and engage in much trade locally.
This was made clear to me when the Idea Hub group went to the Australian Landing Pad at SOSA (a place that brings together startups, entrepreneurs, corporations and investors all under one roof). It was there that the Tel Aviv Landing Pad Manager Omri Wislizki gave us a picture of what the local startup scene is like. Omri said that it's the knack that Israeli startups have for going global that is one of the main reasons why you'd chose to come to Tel Aviv over other global startup hubs.
Having met a number entrepreneurs with global startups, spending an evening at Wix, and seeing the long list of global startups Israel has pumped out (eg. Fiverr, Viber, Similarweb, Waze...) - they have the track record to back it up.
The UQ Idea Hub experience
I'm grateful to have had the privilege of living and working in Tel Aviv as a part of this 2018 UQ Idea Hub Startup Adventure. The hospitality of the locals, the opportunity to see and explore Tel Aviv, Jerusalem, the landscape, as well as getting to know the others on the trip has made this an unforgettable experience which I'll look back on fondly.
I'd recommend the Startup Adventure to Tel Aviv without question.