The UQ Tel Aviv Startup Adventure rightly lived up to its title, where apart from the consistent daily consumption of hummus, each day brought about new opportunities that channelled my inner explorer to truly adventure the buzzing environment of Tel Aviv.
Right from the get-go, we were attending nightly networking events, hunting down the best hummus/falafel/pita/shawarma in town, spontaneously planning weekend trips and meeting Israeli locals. The vibrant culture of Tel Aviv meant that having a jam-packed agenda was the norm and it was amazing to experience a society where pretty much everyone lives life to its full capacity. Working effectively to get the job done, socialising with friends on a weeknight till 12am and making time for family during shabbat was the standard, and I loved every bit of it!
I made it a goal to immerse myself in the culture and startup environment, overdose on Israeli food, learn the language and meet as many people as possible. By the end of the month, I still couldn't get enough of the Israeli way of life, but here's a summary of the progress for my aims for the month.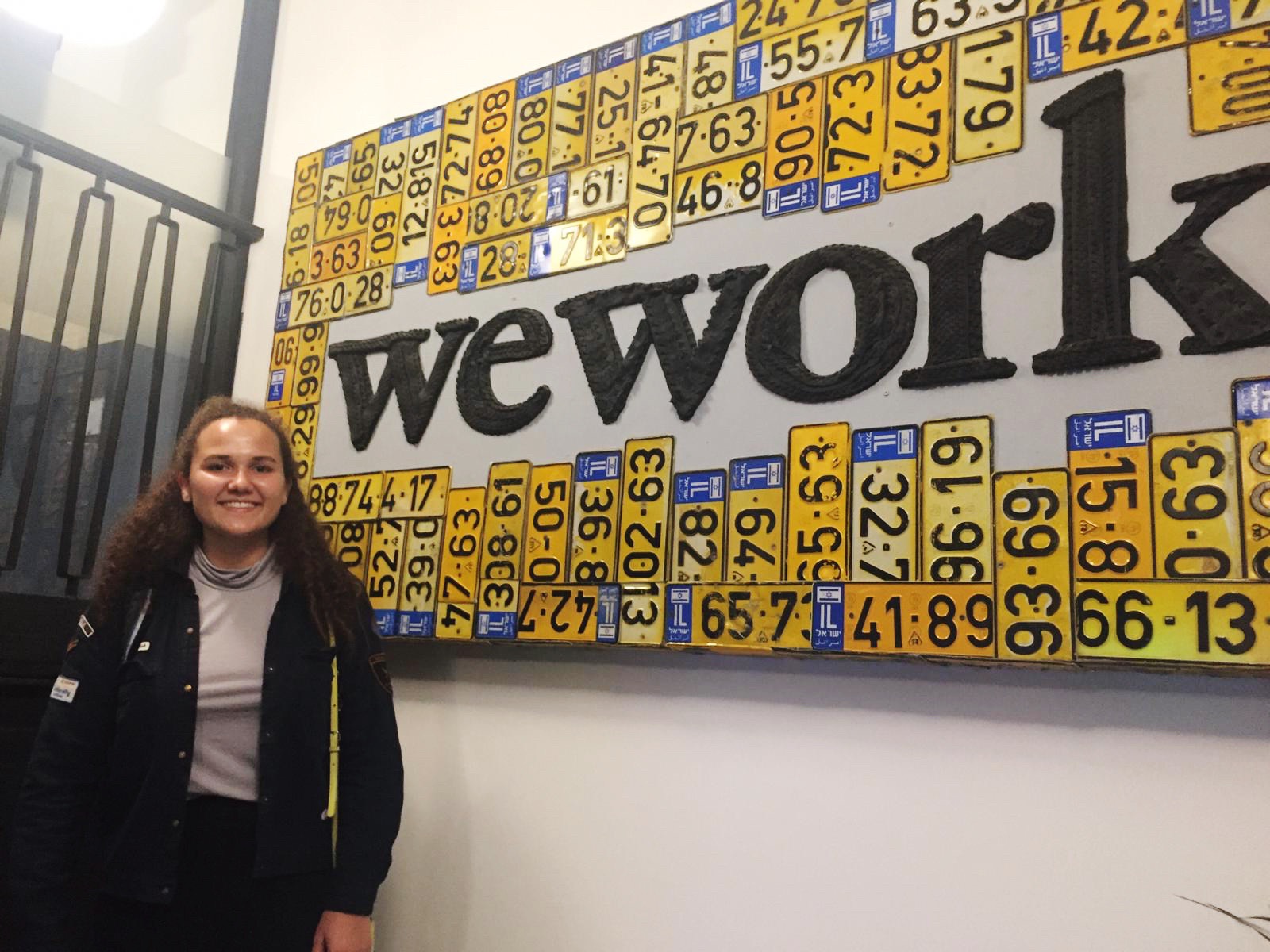 The culture and startup environment
During the month, we got the chance to take a course about Israel at Tel Aviv University. Learning about the history and political situation in the region was extremely valuable and particularly learning first-hand information with walking tours of Tel Aviv was awesome! Facilitating this information by asking people at work about their views and political stances was also very interesting, where everyone was willing to share their opinions about the religious and political relations in the not so stable region of the Middle East. This often led to chats about their lifestyle and how they approach things - in a direct, genuine and efficient manner.
What I also noticed was that Israelis are fond of their community and traditions. We were very lucky to experience Hanukah (which involved heaps of doughnuts!) and also had to get used to the weekly time of Shabbat. When they say all the shops close on Shabbat, they really mean it – shops and public transport really do stop operating. Although it wasn't as noticeable in Tel Aviv and it is done for religious purposes, I really appreciated that it was a day when people slowed down, maybe even went outside to explore nature or spent time with their friends and family.
I also felt the community vibe in my workplace. For my internship I was fortunate enough to work in a collaborative workplace called WeWork where I was placed with the non-governmental organization (NGO) - BeWell.il. As part of the Israeli Innovation Institute, BeWell.il works towards bridging the gap between digital health startups and the leading health organisations, mainly in Israel but also internationally. My project for the month was to investigate the Australian digital health environment and identify ways in which Israeli startups could enter the Australian market. Working alongside some wonderful people, it was one of those workplaces where you had a smile on your face and looked forward to turning up to work every day. Not only did I meet people from the Israeli Innovation Institute, but also people from other businesses and organisations, where everyone was always happy to grab some lunch and share their stories. Another perk that I loved about work was that dogs were welcome in the workplace and roamed for quality pats around the office as well as weekly happy hour where it would bring together everyone from WeWork to enjoy some free food.
Another opportunity that evoked our excitement for innovation and inquisition about The Startup Nation was the visits we made to SOSA, Hype Sports Innovation, Wix and the Australian Embassy. I particularly enjoyed our time at SOSA, where we learnt about what makes Israel the leading player in hi-tech startups and how they evolve businesses to break through to the global market. Hearing about Australia's potential and the success stories of startups like Friend Theory really made me excited about the future of innovation and hope for Australia's startup scene to prosper.
Food
I don't even know where to begin when reflecting on the food scene in Tel Aviv! All I can say is that it was food heaven! I was in a constant food coma whether it be from eating hummus (often served with unlimited pita), shawarma lafas, slices of baklava from the markets, burgers from Vitrina (the best place for burgers!) or really anything from any food joint in Tel Aviv! Strolling through the markets was also an experience for the senses, with all the aromas of spices and vivid colours of all the fresh produce tempting you at every stall.
Language
I can't say I can fluently speak Hebrew, so my progress in learning the language was the least successful. However the terms I did learn were shalom (hello – to give hope to the people at the stores that you can speak Hebrew before you start speaking English), toda (thank you), sufganiyot (doughnuts - very handy when buying a lot of Hanukkah doughnuts), slicha (sorry – for when you accidentally take out your phone to take a photo in front of an Orthodox Jew in Jerusalem), ma nishma (what's up - also the happiest greeting to say to everyone!) and sababa (cool - also a cool word to say).
The people
Reflecting over this past month, it's hard to pick my favourite part of the trip, as the whole month was a highlight. However, I think I can speak for everyone when I say that one of the best parts of the trip was the people. Whether it was Israelis or immigrants, locals or visitors, my work mates and of course the UQ homies; every person I met on this trip made this experience one that I will treasure forever. Particularly the people at work who welcomed me with open arms and made my time in Tel Aviv very special. They were always willing to share their experiences and their top tips on travel and food. Strangers on the streets were also willing to help right from the first day, which is when we learnt that saying hummus as though you have a phlegmy throat is important, because otherwise you might sound like you're saying Hamas (the Palestinian Sunni-Islamist fundamentalist organization).
Finally, the UQ students that accompanied me on the trip were some of the best people I have had the pleasure to meet. Friendships definitely blossomed as we bonded over our love for adventures and curiosity to learn more about our world. Weekend trips to Haifa, Jerusalem, the Dead Sea and Petra were unforgettable due to the unique views and natural environments, but moreover, the spontaneity, laughs and excitement of each moment was largely due to the people with whom I was lucky enough to share it with.
All of my experiences in Israel impressed me and surpassed all of my expectations. I don't think I can accurately express my genuine gratitude for UQ Idea Hub in a blog post, however I am so thankful for this amazing opportunity and I cannot urge anyone more, to take advantage of this unique opportunity that UQ offers! This program is definitely a once in a life time experience and taking the spontaneous decision to apply for the Tel Aviv Startup Adventure was one of the best things I have done during my time at UQ! If you take one thing from this blog post, please just apply and don't even think twice about it, because you have absolutely nothing to lose.