Whether we were out and about exploring the city or playing table tennis at the dorms, I'll never forget the memories I made with my newfound Idea Hub family. 

1. To gain overseas work experience
The purpose of this trip was to immerse ourselves in the Singaporean business culture. I also set myself the goal of developing the in-demand business skills of adaptability, teamwork, integrity, critical thinking and creativity. I was placed at Halogen Foundation Singapore, a non-profit youth development organisation. In my role, I was a trainer - I travelled to several Singaporean schools to teach students leadership and entrepreneurship skills.
I quickly adapted to Singapore's stricter workplace expectations, learning the dress code standards and convention of getting to work early. I also grew to work more efficiently over the four weeks since my company particularly valued work ethic and productivity.
Halogen also emphasised goal setting and daily reflections, two practices I will be bringing home to Brisbane. At the beginning of my internship, I set myself two professional and personal goals and my supervisor made time periodically to check my progress. Another convention was sending my supervisor the tasks I planned to complete that day, then at the end of the day sending her the tasks I had actually managed to complete. This process gave me focus for the day and encouraged accountability. I was also required to reflect regularly on the work I was producing to see where I could improve and celebrate what I'd done well. 
2. To network at conferences and events
Before we jetted off to Singapore, we were given a set of business cards which we definitely put to good use! I enjoyed attending weekly pitch nights at Accelerating Asia (UQ's Singaporean partner) where I got an insight into Singapore's diverse and thriving startup ecosystem. I also networked at conferences including Innovfest and Tech Skills where I met a number of international speakers from a variety of industries. Visiting the Australian High Commission was another unique opportunity to make new connections. 
3. To learn about the local culture
Over the four weeks, I was educated about the local culture and history by my Singaporean workmates. I learned about the NS (National Service) and the fact Singapore has both a Prime Minister and a President. I was also introduced to Singlish (Singaporean slang mixed with English) and definitely heard my fair share of the word "lah"! I even picked up a few phrases in Mandarin and Malay (two of Singapore's four national languages). 
4. To make new friendships
There's something about being in a new country with 19 other Aussies that brings you close together. I still remember meeting everyone at Idea Hub for the induction meeting, most of us total strangers. Two weeks later, by the time we had boarded our flight, we'd already started making connections — comparing mutual friends and shared uni courses. I was happy to find within a few days of arriving, we had bonded and became a tight-knit crew. Whether we were out and about exploring the city or playing table tennis at the dorms, I'll never forget the memories I made with my newfound Idea Hub family.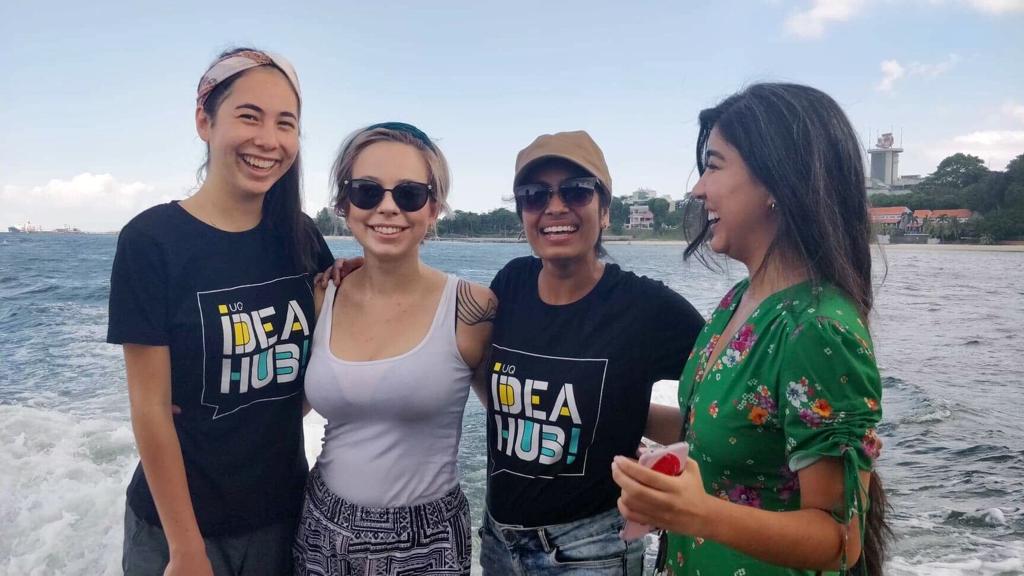 5. To sample the local food
Where do I even begin! I was lucky enough to spend a month eating my way around Singapore's famous hawker centres (food courts). With every meal priced between $3-$7, it was super affordable to try an array of dishes every day. The Singaporean interns at my work were determined to introduce me to all their favourite foods, so every lunchtime was a new culinary adventure.
My favourite way to eat was Yum Cha style - buying six different dishes (noodles, buns, dumplings and rice galore) to share with a group of friends! Over the four weeks, I fell in love with famous Singaporean dishes I'd never tasted before including chilli crab, kaya toast and chicken rice. My work was located five floors above the Chinatown Hawker Centre meaning I was fortunate enough to dine at two Michelin Star rated hawker stalls in my lunch breaks! 
6. To explore the country's attractions
Singapore being an island city-state means it's one of the few countries in the world you can truly explore in it's an entirety in only a month. You can drive from one end of the country to the other in only 45 minutes! Every day after work, we'd jump on the MRT train from our respective workplaces and meet up to explore Singapore's best attractions, from watching the Super Tree Light Show to shopping at the Bugis Junction markets.
On weekends, we had time to venture out of the city, visiting the tiny island of Pulau Ubin off mainland Singapore and screaming our heads off at thrill rides at Sentosa Island's Universal Studios. 
I had the absolute time of my life in Singapore, learning so much in my workplace and at conferences and networking events, whilst exploring Singapore's attractions with my 19 new friends. I am so grateful to the UQ Idea Hub team for this once in a lifetime opportunity and all the support they provided in facilitating our startup adventure. If you're reading this, don't hesitate, apply for Idea Hub's Singapore Startup Adventure now! 
---
Startup Adventures
Unique entrepreneurship experiences with some of the world's best tech startups with our Startup Adventures program.