Living in Israel was an amazing experience. Israel has many layers to it, it can be complex, warm, fun, adventurous, fast or loud. More or less you could call it a complex country. 
Israeli's are not what they seem
Many people think that Israel is in a state of constant hate and conflict, which is not true. People work, live, eat and celebrate here together. People are extremely warm but might appear a little rude or pushy but that's how Israeli's are and that's what makes them different. After living, travelling and befriending locals around various parts of Israel for a month, I can say that Israelis are incredibly warm and open people. Israel is such a different and young country with diverse religions, traditions, and ideologies - not to mention the picturesque landscapes and sites. 
Failure is what makes Israel succeed 
There is no stigma in failure. Failure in Tel Aviv gives them the motivation to try again and most importantly to do it better. I spoke to many locals while in Israel and all of them say that it's the compulsory military service that changes their way of thinking, their approach towards life, the never giving up attitude and hard-working approach to solving problems. Israelis are not afraid to fail and from day one of their startup journey they think about going global. There's so much to learn from their startup mindsets, and there is a reason that they are named 'The Startup Nation'.
Failure in Tel Aviv gives them the motivation to try again and most importantly to do it better.
Learning alongside a startup
Learning from a startup was an amazing journey. I was placed with EcoMotion, which is a venture in collaboration with the Israeli Innovation Institute, Ministry of Economy and Industry, Fuel Choices Initiative and Smart Mobility Initiative. EcoMotion is the centre of smart mobility in Israel and has helped a community of more than 600 startups come together. My tasks were more around researching the Israeli startup ecosystem in the cybersecurity sector in the autonomous vehicle and showcasing them at a global platform. I also was involved in setting up many events including meet-ups, EcoMotion's Adaptation, and Mapathon and got the opportunity to interact with some amazing personalities from the smart transport industry. 
Network, network, network
The startup community is so evolved and fast-paced that you will find an event to attend every day. We had a chance to attend some fun events, meetups, a session at The Australian Landing Pad and to meet the Australian Ambassador in Israel. There's so much you can learn from these events and the people attending. I would totally encourage future adventurers to attend as many events as possible.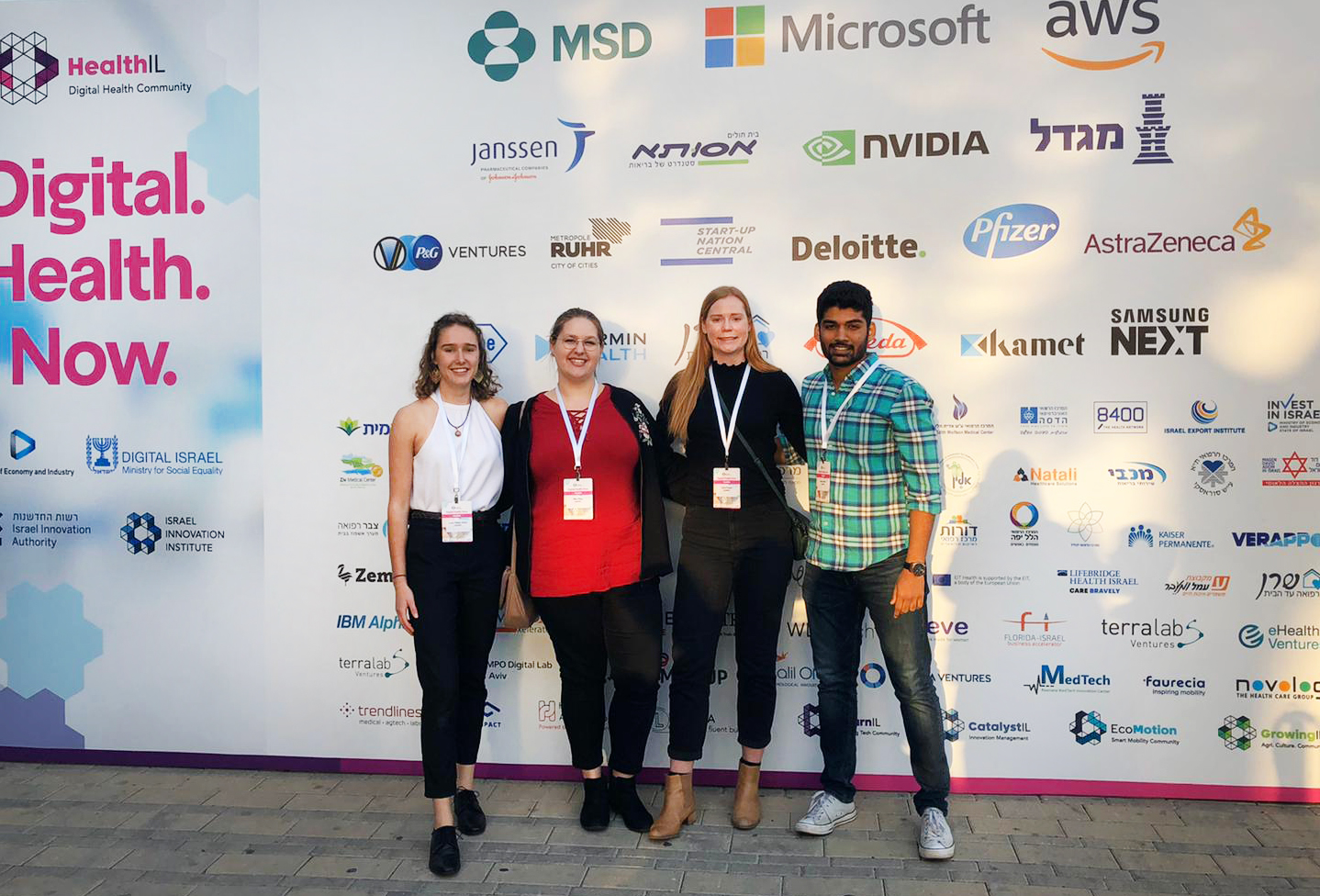 Exploring Israel
Having limited free time, we had to make the most of our weekends - visiting Jerusalem and seeing the four quarters, sunset at Mount of Olives, early morning hike to Masada for suns rise, visiting the old city Jaffa, floating in the Dead Sea and snorkelling in the Red Sea. 
More tips to make the most of your adventure
There's an app for everything — Make sure to download WhatsApp, Lime, Getaxi, MOVEit, and Waze before getting to Israel and you'll be good to go!
Manners are sometimes left out —Israeli's are generally to the point and honest, so don't expect a lot of "Have a good day", "Thank you", and "cheers".
Shabbat —The city is quiet from Friday sunset to Saturday sunset, a few major lines of buses and few stores will be open. So, plan accordingly if you are heading out for a weekend trip or anything.
Being on time, what's that? — Being 10 minutes late for a meeting is not only considered not rude, but it is also the norm. People are not offended if you are late for a meeting as long as you have a valid explanation. And never expect the buses to come on time.
Rav-Kav — is your Israeli go card, get a monthly card from the nearest bus stop and you will be good to go.
I am grateful to UQ Ventures, Tel Aviv University and EcoMotion for giving me this once-in-a-lifetime experience. I am definitely not going to be the same person when I get back, this trip has given me a different approach to look at things and opportunities. I am so grateful for all my co-adventurers. I will definitely cherish this adventure for the rest of my life.
---
Startup Adventures
Unique entrepreneurship experiences with some of the world's best tech startups with our Startup Adventures program.