People counting for COVID-19 and beyond: How one UQ startup responded to the pandemic
Solution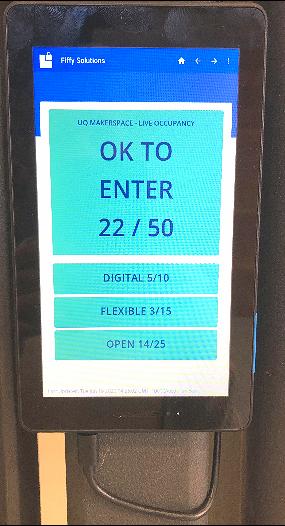 After the Australian Government put in place social distancing measures, Fiffy Solutions acted quickly and launched a capacity-monitoring solution in UQ Innovate's makerspace. Fiffy Solutions added a tablet displaying the live occupancy of the warehouse space plus overcrowding alerts to their already existing people counting solution.
Since then, students and staff can see the live occupancy of the workshop and know when it's safe to enter.
Background
I founded Fiffy Solutions back in 2018 with developing wireless door counters based on thermal sensors that protected people's privacy. This is necessary because current image detection technologies are set under pressure by regulation. In addition, we are the first ones who are able to combine both privacy protection and wireless sensors to offer a safe and cost-efficient solution. My startup went through UQ Venture's accelerator program, ilab, in 2019 and since then I've helped the UQ St Lucia campus capture more data about how their campus is used. 
Prospect
In the coming months, Fiffy Solutions will start installing people counting devices across multiple university campuses in Australia and in some building management companies overseas. The data is high in demand because it informs expensive, future infrastructure investments and enhances smart and sustainable buildings. With the innovative COVID-19 capacity-monitoring solution, Fiffy Solutions shows how startups can survive and thrive in times of crisis and even help to maintain the health and safety of people.