With a Brisbane lockdown disrupting the UQIES x UQBA Innovation Challenge mid-way, teams were only more inspired to find ways for their startups to thrive in uncertain times.
With the UQIES x UQBA Innovation Challenge in June-July 2021, UQIES was excited to return to the first in-person Hackathon since the COVID-19 pandemic. Together with the UQ Business Association (UQBA), UQIES hosted 44 students for the four-day Hackathon. The aim: to develop business ideas focused on proactive solutions, rather than reactive.
Each day of the Hackathon consisted of workshops and mentor sessions, targeting the key areas required to develop a pitchable startup idea. Below are some of the highlights of the Hackathon.
The evening before the Hackathon began, participants attended a networking event at Milton Rum Distillery, founded by UQ Chemical Engineering and Business Management graduate and key sponsor of the Hackathon, Alexander Bell. Students had a chance to connect with their fellow participants and form teams before Day 1.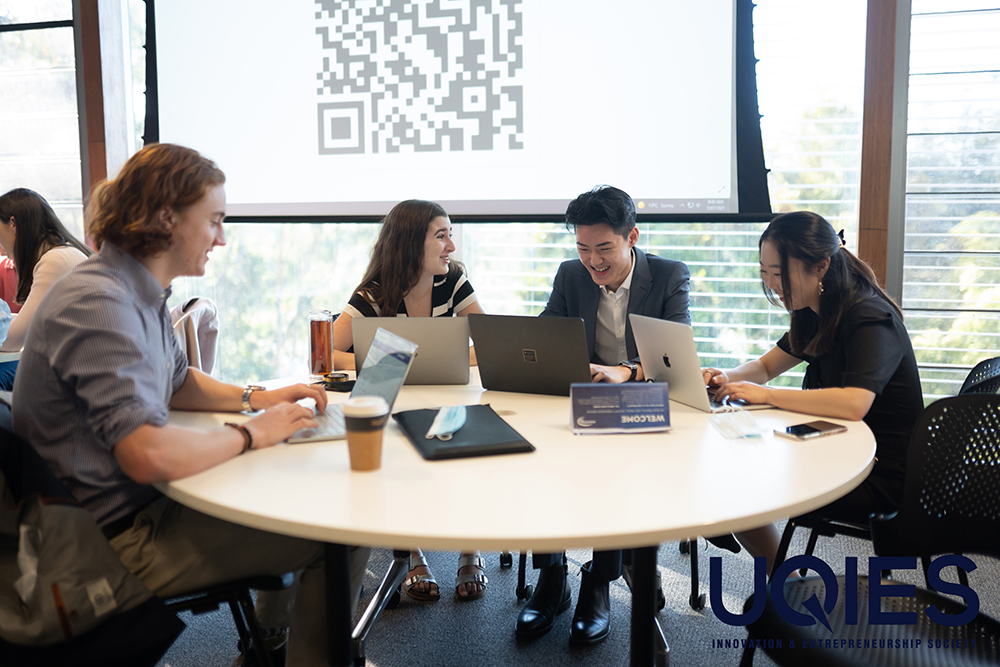 Day 1
After an official welcome by Head of UQ Ventures, Nimrod Klayman, the teams set to work forming ideas for their startups. These covered a variety of industries: from renewable energy to health and wellbeing, as well as shipping and logistics. The teams took part in two workshops: Human Centred Design, hosted by the UQ branch of Engineers without Borders, and Agile Project Management, hosted by Ventures ilab Manager, Emily de la Pena. Then it was time to map out project timelines in mentor sessions run by the founder of Fractal, Gerard Doyle and Innovation Analyst at Bank of Queensland, Kelsey Seeger.
Day 2 (lockdown announced!)
The teams began to develop their business model canvases in a workshop hosted by Ventures Manager, Megan Forrest. They explored the nitty gritty of how their startups would operate by identifying their value proposition, customer segments, resources, and costs and revenue streams – all vital elements for a viable business idea.
It was during this workshop that a three-day lockdown was announced for Brisbane, commencing that evening. The snap lockdown highlighted just how important agility and foreseeing problems are in business and entrepreneurship. The organisers decided to carry over the remaining days of the Hackathon to the following week. With the time left that day, the teams kept up the momentum and attended their second mentor session with Founder of Eduvidd, Kaitlyn Sapier, and Founder and CEO of Wylas Timing, William Ferguson.
Day 3
After the lockdown lifted, participants were welcomed back in-person for the third day of the Hackathon the following week. They attended a workshop on validation, hosted by Ventures Program Officer, Tomas Piccinini. The groups learnt about useful ways to test and validate their idea before pitching. They then worked on refining and improving their business models. Their day three mentor session was led by Manager of Innovation and Engagement Services at CSIRO, Alisa Becker, and UQ Chief Student Entrepreneur, Rachel Huang. 
Day 4
The final day of the Hackathon focused on pitching. First up, Ventures ilab Manager, Emily de la Pena ran a pitching workshop about how to effectively communicate the business ideas the teams had developed. The teams worked to come up with five-minute pitches. Emily de la Pena and Ventures Community Partnership Coordinator, Caitlin Boucher, then led the final mentor session.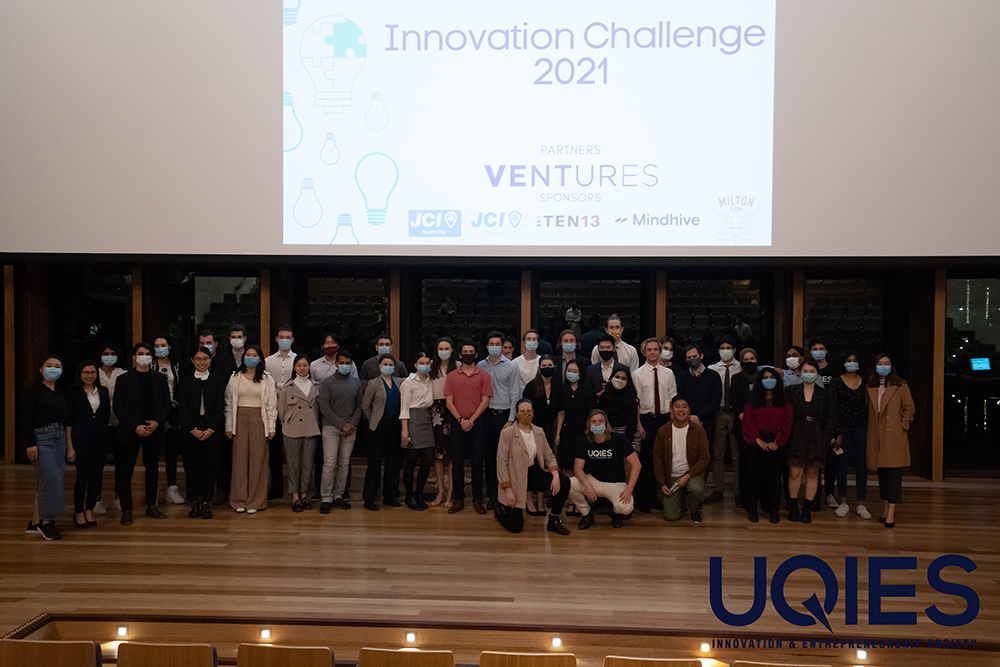 Final Pitch Competition
The final pitch event, held in the UQ GHD Auditorium, saw twelve teams deliver their pitches to a panel of judges. These included the President of JCI Brisbane, Alexander Beard; Investor at Brisbane Venture Capital firm TEN13, Lachlan Duffy; Founder and CEO of Mindhive, Bruce Muirhead; and UQ Chief Student Entrepreneur, Rachel Huang.
Innovation Challenge Winners:
First place ($2000): Sircuit uses renewable microgrids to encourage and propel Australia's transition to renewable energy. Sircuit's team consisted of Jakob Ternel, Kyel Steensma, Simeon Gover, Tristan Fillon, and William Jeremijenko. 
Second place ($1000): SafeSend is a safer and more secure platform to buy and sell second-hand goods, mitigating theft and fraud, increasing consumer confidence, as well as encouraging circular economies. SafeSend was developed by Nathaniel Dracakis.
Third place ($500) – tie:
BamBusa is focused on sequestration through bamboo forests. Efficiently using land and fast-growing plants to increase the net removal of CO2 from the atmosphere. Their team consisted of Connor Vilaysack and Marcus Rehbock.
Farm2Fuel uses organic (fruit) waste material from farms to convert to biofuels, mitigating not only organic waste and its emissions, but fuel emissions as well. Their team consisted of Aleisha Lanthois, Alyshah Moiz, E-Yong Lee, Jack Anderson and Lois Min.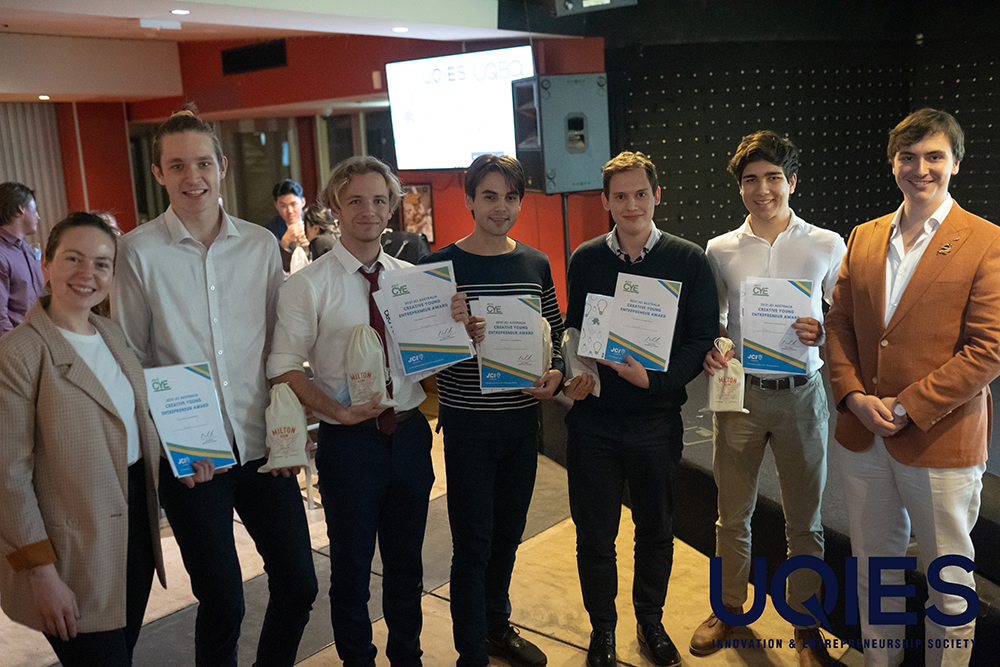 In addition to the cash prizes awarded by UQIES, the winning teams also received prizes from our sponsors. Among these were the Creative Young Entrepreneur (CYE) Award from key sponsor JCI Australia and JCI Brisbane. Winning startup, Sircuit, was awarded the inaugural title and will have a chance to represent JCI Australia and JCI Brisbane at conferences, both nationally and internationally. Another fantastic prize was lunch and a tour of sponsor TEN13's offices, hosted by Lachlan Duffy. Our sponsor MindHive had prize packs for each winning team member, and all winners received a gift from sponsor Milton Rum Distillery.
Wrap-up
With the winners announced and the pitching event wrapped up, that concluded the Winter UQIES x UQBA Innovation Challenge. Thank you to UQIES and UQBA, as well as UQ Ventures for their contributions to this amazing event! A massive thank you also to our sponsors – JCI Australia, JCI Brisbane, TEN13, MindHive, Milton Rum Distillery – who helped make this a wonderful experience for our participants. It was fantastic to see such innovative talent growing at UQ, and we look forward to the next Hackathon.
---
UQ Weekend of Startups
The Weekend of Startups is back, bigger and better than ever. This time around UQIES are partnering up with UQ EWH and UQ Ventures to welcome back one of our favourite events of the year. Learn more about the UQ Weekend of Startups and join 8 - 10 October, 2021.