A missed train through rural China was the catalyst for UQ engineer and business students Isabelle Fleming and William Kirkwood to come up with the idea of a Chinese debit card.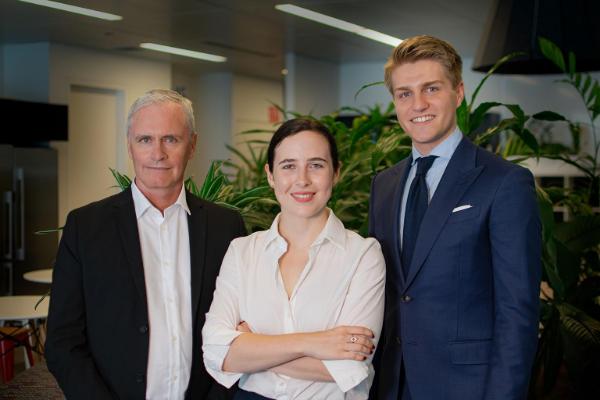 Both students were in China as part of the four-week 'Shanghai Startup Adventure', where they were embedded in the local entrepreneurial ecosystem and worked in leading technology companies. 
It was the fast-paced life of Shanghai that led to them being late to collect their train tickets at the Hongqiao Railway Station. After a particularly frustrating interaction with a teller and several hours of waiting, the two began discussing the pain points of travellers caused by friction between Chinese and Australian culture.
Their experience with the luxury retail industry back home in Australia soon crept into the discussion, and the vision for a payment provider that would link Chinese consumers to Australian merchants was born: Koi Pay, which symbolises wealth and good fortune in China.
The result is a product that can run on existing infrastructure networks, but pull funds from a Chinese digital eWallet provider.
After refining their idea through UQ's Startup Academy program, where they took out first prize for their pitch, Koi Pay was born.
The very young company was then joined by the third and final co-founder: Chris Dwyer. A judge on the Startup Academy panel – with more than 19 years' experience in the Payment Systems industry – Chris knew a good idea when he saw it.
The trio quickly began developing the technology and strategy to bring Koi Pay to life: Isabelle as CEO; William as CFO; and payments expert Chris as CTO. After participating in several other entrepreneurial programs run through UQ Ventures, the team has earnt itself a place in the University's 2020 ilab Accelerator program.
"As an early-stage venture, we could not ask for better support," Isabelle said.
"The mentorship – especially that of Entrepreneur in Residence and Haystack founder and CEO Ran Heimann – and a network of co-founders, professionals and potential investors have pushed us every day to be our absolute best."'
Koi Pay will launch its first product by the end of 2020.