UQ alumna Dr Ariel Marcy (Doctor of Philosophy '20) has secured a licensing deal for her board game Go Extinct!. The deal with Genius Games, a US publisher of STEM-based educational board games, came right after a successful Kickstarter campaign.
Go Extinct! is a play off the name of popular card game Go Fish. It teaches students of all ages about evolutionary trees, and proved to be a fun learning experience in classroom playtesting by primary and secondary school teachers.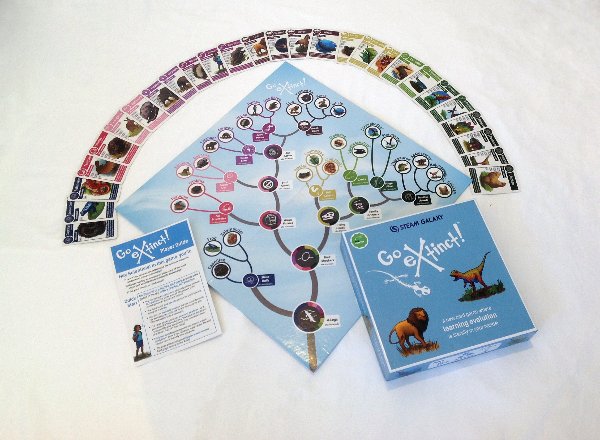 As an evolutionary biologist, Dr Marcy has always been interested in and driven by science. She founded the educational design studio STEAM Galaxy in 2014, producing a range of products targeted at delivering STEM education in an exciting and creative way, including a free online version of Go Extinct!. The game features artwork from UQ palaeontologist Dr Anthony Romilio, ensuring its scientific accuracy.
The licensing deal is a promising development, which will see Go Extinct! distributed through more targeted channels and logistically streamlined.
Dr Marcy said getting a deal with Genius Games was a true win.
"The partnership focuses on a new edition of the board game, named Go Extinct! Stardust Catches the Carnivores," Dr Marcy said.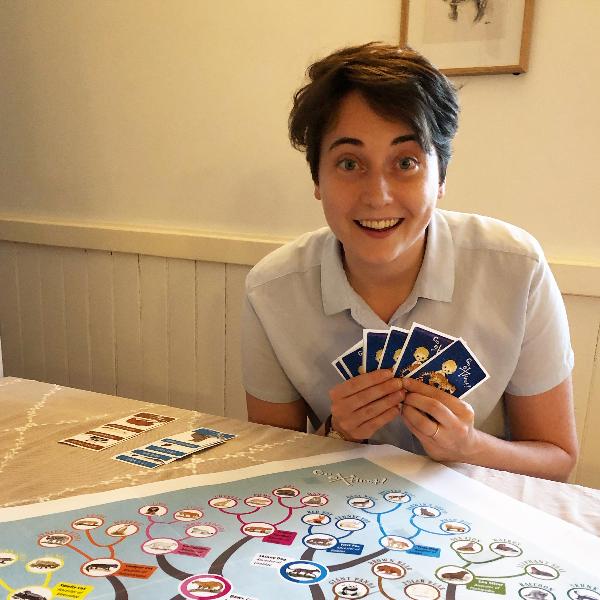 "It focuses on carnivores, and was developed in collaboration with the creators of the Stardust children's book series."
Dr Marcy created the new edition after helping the Stardust team edit their latest book for scientific accuracy. The team decided to make a game that reinforced key evolutionary ideas from the book in a meaningful way.
"Books are able to cover a lot more context than games, but a game allows you to practise a certain skill. So the two together are a really powerful combination."
The game can be scaffolded in different ways depending on the context, from a primary school setting to university students. The original game has already been through two manufacturing runs and been sold globally, with the licensing deal expected to not only broaden distribution channels but provide more exposure.
Dr Marcy is thankful for the support and recognition from the science community. Her game won the Thomas H. Huxley Award in 2016 for its outstanding outreach achievements.
Such ambitious and visionary entrepreneurship wasn't without passion and a robust background in both science and science education. Dr Marcy's love of evolution is longstanding; she was attracted to Australia's wildlife so much she researched native rodents for her doctorate.
"Australia has the most awesomely weird animals," she said. "It was easy to get hooked."
After a position teaching undergraduates at Stanford, Dr Marcy also saw existing issues in the traditional science education framework.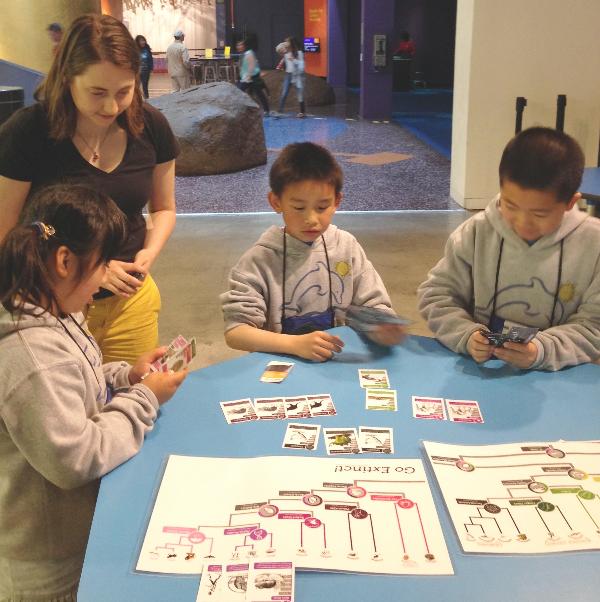 "Science is the study of nature, which is really dynamic," she said.
"Lots of things are happening at once and it can be difficult to get a handle on enough of them to start making predictions. To make matters harder for students, our usual ways of teaching – lectures and reading – are very simplistic. They don't capture the dynamic aspect well. Fortunately, games do! Games can be almost as dynamic as nature, so they are powerful teaching tools."
Dr Marcy says while she is curious about science, she feels more connected to a purpose when teaching it, especially for evolution as it is not well understood in the public imagination, and is motivated to come up with ways that are non-threatening and encouraging. The nested quality of evolutionary trees as depicted in Go Extinct! is especially paramount in understanding how we are all related, with some organisms more closely related than others. That's the unique insight the game provides that does not come easily in mere conversation.
In the future, Dr Marcy wants to create different games that focus on different aspects of science. She is currently completing postdoctoral research, focusing on her passion for science education through the study of evidence-based instructional practices.