During Semester 2, 66 UQ students from diverse disciplines used their entrepreneurship skills to create solutions to help halve Australia's national food waste by 2030.
Now in its third year, the 2022 Ventures Industry Challenge was made possible by collaboration with OzHarvest. Founded by Ronni Kahn AO in 2004, OzHarvest has quickly grown to become Australia's leading food rescue organisation.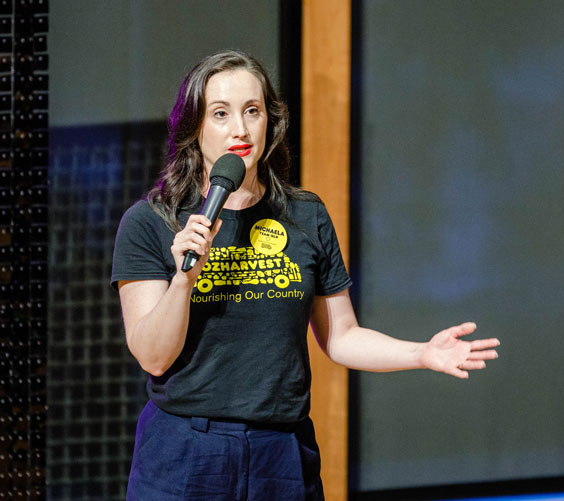 The 10-week challenge helped teams to ideate, validate, and pitch solutions for how to meet Australia's national target of halving food waste by 2030. This mission is in-line with the United Nations Sustainable Development Goals, to become a more environmentally sustainable, economically resilient, and food secure society.
The winning team, the 501st, consisting of Bachelor of Health Science (Nutrition) and Master of Dietetics student Caitlin Luong and Bachelor of Commerce student Kelly Kuan, saw a gap in the market to produce seasonally dependant, vegan, and healthy sorbet flavours made entirely of overripe produce.
"Fruit and vegetable waste make up two of the top five most wasted foods in Australia. We thought that if we converted ugly, overripe produce into something aesthetic, we could make it easier for consumers to unknowingly fight food wastage," Kelly said.
After a brief introduction to Ventures Curiosity in 2022, Kelly wanted to explore more of the entrepreneurial support offered by Ventures. 
"I've always loved creative thinking, and this large innovative space was so new and exciting to me; I immediately wanted to try the Ventures Industry Challenge."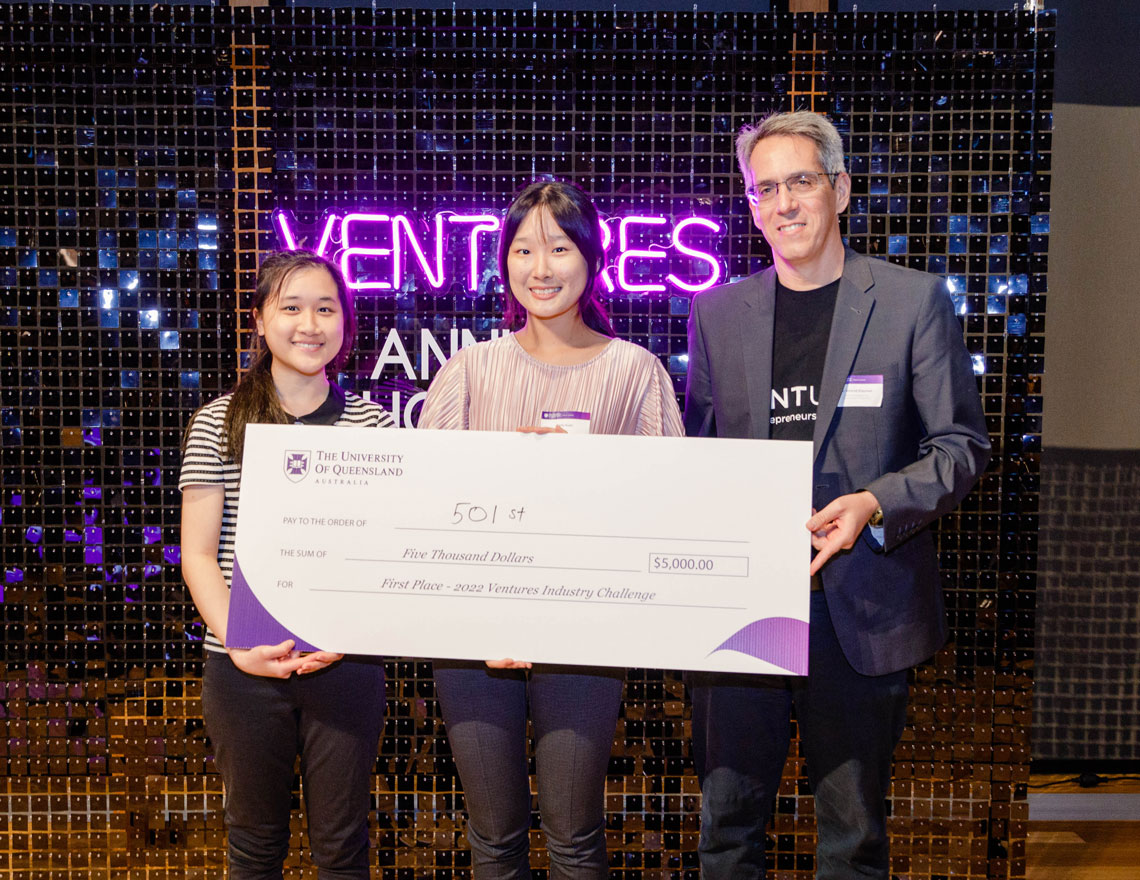 Caitlin and Kelly conceptualised their idea after being inspired by the popularity of visually attractive sorbets on social media. They then developed it throughout the 10-week program, before being selected as one of five finalists to pitch at the Ventures Annual Showcase.
Kelly said that one of her biggest learnings from the program was that even the smallest ideas can be important.
"Large-scale problems do not necessarily need an immediate, large-scale solution. You should never disregard an idea, no matter how small," she said.
"Global and big issues always have more than one solution," Caitlin said.
"I have witnessed so many different possible solutions that could all work to reduce food waste, and entrepreneurship is definitely a way to the future and is absolutely necessary for the betterment of society; I'm just glad to have been apart of it."
Caitlin and Kelly plan to put their $5,000 prize money towards establishing their company, the 501st, early next year. They aim to continue working with OzHarvest and potential investors, and also hope to apply for the Ventures Validate program next year to further strengthen their business model.
---
Ventures Industry Challenge Winners
1st place: $5,000:­
The 501st – Seasonal sorbet flavours using overripe produce.
Caitlin Luong (Bachelor of Health Science (Nutrition) and Master of Dietetics
Kelly Kuan (Bachelor of Commerce)
 
2nd place: $3,000:
Chemoo – The collection of non-viable dairy products to produce and extract lactic acid to supply businesses in need.
Alexandra Tolley (Bachelor of Engineering/Business Management)
Serene McCormack (Bachelor of Engineering (Hons)/Bachelor of Economics)
 
3rd place: $2,000:
Yumi – A buy-one, give-one service to those in need of food products made entirely from food waste.
Aryan Rustagi (Bachelor of Commerce)
Marcus Rehbock (Bachelor of Commerce/Science)
E-Yong Lee (Bachelor of Advanced Finance and Economics)
 
People's Choice: $1,000:
Green Mean Machine – A food waste star rating system that incentivises both suppliers and consumers of products.
Luca Vincent (Bachelor of Science)
Saef Warda (Bachelor of Science)
Marco Gabriel (Bachelor of Environmental Management)
View the full recording over on the Ventures YouTube channel to watch the top five finalists pitch at the 2022 Ventures Annual Showcase.