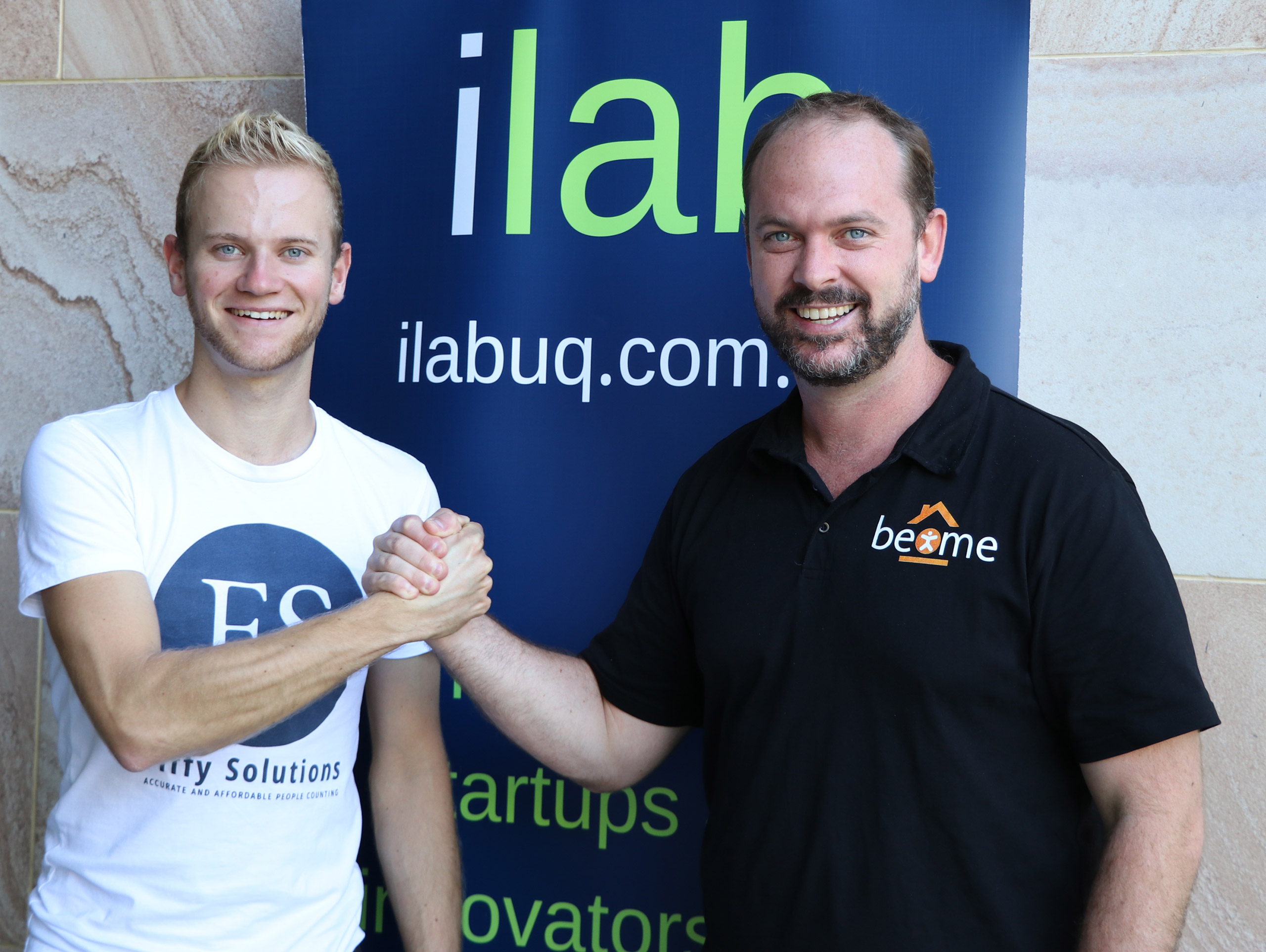 This is the story of how two entrepreneurs tested their idea on the market through Startup Academy.
Julian Stein (Fiffy Solutions) and Nathaniel Simpson (Beome) have several things in common. Not only did they both start careers as employees in the energy industry, they have now successfully transitioned into the world of startups.
German-born Julian moved to Australia in February 2018. For five years he worked for Eon in strategy and digitization change.
Nathaniel used to work for ExxonMobil as a Production Engineer.
Startup Academy at UQ validates the fit between your ideas and market needs while developing a business model for your product or service. Your product or service could be the launch of a business, an app, or a social venture. 
Nathaniel completed Startup Academy in Semester 2, 2018, while studying for his Master of Business Administration at UQ. He was looking for a large market in its infancy stage and in need of disruption; but one with the potential to grow – a lot.
"When there is a growing market - it provides an opportunity for all players to survive among competition," Nathaniel said.
This journey led Nathaniel to the Property Technology (PropTech) market and a vision to create the company Beome.
"I based my business model on years of shared living with others. Shared living needs to exist in this world, so I want to make it as successful as possible for landlords and tenants," Nathaniel said.
"Brisbane is in a heavy housing oversupply, and there is a large demand for individual room rentals by students and young professionals. Creating a platform to facilitate the matching of the two market segments just makes sense," he said.
"At Beome we team up individuals and rent entire properties under a single residential tenancies authority RTA contract. Through our website self-managing landlords can rent out their whole house or apartment, or rent out property by the room."
Coming from an engineering background and talking with people each week meant that it was hard for Nathaniel to transition out of solution mode.
"Each week during Startup Academy I ran-in saying, 'I've got it!' I've talked to another twenty people and this is how I can solve their problems," Nathaniel said.
Nathaniel presented three of four different business model canvases to participants of the Startup Academy program.
"It was reassuring to understand how others perceived risk and the viability of each business model," he said.
"Startup Academy helps to define the market problem and assist your company to provide the solution."
The question is not 'Can this product be built?' … the question is 'Should this product be built?' (Eric Ries, The Lean Startup.)
Julian's journey started Semester 1, 2018 when he went through the Startup Academy run by lecturer and Entrepreneur in Residence, Cameron Turner. 
Startup Academy was designed to address the main reason why startups fail, which is because of no market need.  
As an emerging entrepreneur, Julian was familiar with the concept of creating a product, which he both needs and wants. Unable to find an available computer at UQ he soon conceptualised the idea for an app that visualised computer availability per building and level.
Startup Academy helped him to develop and validate his business model and core assumptions through interviewing over 100 students on campus and building a customer profile for his target market.
"Customer interviews and getting out of the building is a key aspect of Startup Academy," Julian said.
"You have to interview people in order to build a complete business model."
"As you interview more people you start to reach interview saturation. This is a state where you stop hearing new ideas. The number of people you need to reach saturation does vary, but 25 to 100 is a good starting point," he said.
Through this experience, Julian established that although there was a valid problem, the target market was not large enough to develop a commercial business as a startup; so he pivoted from occupancy of single workplaces to the use of whole buildings.
This key pivot marked the birth of Fiffy Solutions, an Internet of Things (IoT) people counting startup, which monitors foot traffic to optimise usage of building space.  
Both Julian and Nathaniel have completed the Startup Academy program and are now founders in the ilab Germinate PLUS accelerator program.  
Germinate PLUS runs for six-months each year and offers a $20,000 equity-free grant to each team. The program includes workshops, mentoring, partner deals, desk space and introductions to investors. 
After six months with the Germinate PLUS development squad, Julian validated 'the problem' of counting foot traffic again with the help of UQ Property and Facilities. Together with his head of technology, Simon, and software engineer, Kelvin, Julian is working on bringing the solution to market.
In this phase, Julian and his team have received excellent support from ilab staff and mentors to set up the company and get early customers.
'Most innovations, businesses or ideas fail not due to the failure of product development, but due to a lack of customers.' (Steve Blank, The Startup Owner's Manual.)
Startup Academy is open to all current UQ students, alumni and staff. You do not need an idea or background in business or technology to apply, just an interest in entrepreneurship and innovation.
A UQ Entrepreneurship Strategy was launched in March 2019. Innovation and entrepreneurship initiatives like the Startup Academy and Germinate PLUS retain their identities, but the new strategy brings them together under the collective name Ventures to reflect the entrepreneurial spirit of the growing community here at UQ.
Through UQ Ventures, students, staff and alumni have access to a suite of programs to build their skills in a hands-on environment.