Three new murals by Australian street artists in collaboration with The University of Queensland (UQ) researchers will add colour to Brisbane's streets in a globally unique art initiative as part of the Brisbane Street Art Festival.
The sub-program of the festival, Visualising AI – Science Meets Street Art Co-Lab brings together art and science to create visual representations of artificial intelligence (AI) with the aim of raising community awareness and understanding of AI. UQ AI experts have been paired with up-and-coming street artists ahead for the festival next month to transform multidimensional abstract concepts into visual artworks.
Queensland AI Hub will be home to the first mural, which is a collaboration between UQ AI expert Dr Sally Shrapnel and artist Damien Kamholtz.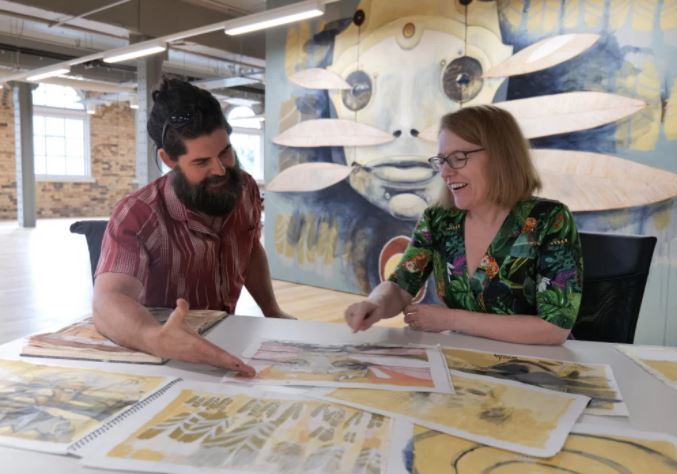 Dr Shrapnel is a former GP and is currently the lead on an international COVID-19 related study, using AI to predict kidney injury.

"When I think of AI, the majority of what's in my mind is actually very abstract and multi-dimensional because I've come at it from a technical background," Dr Shrapnel said. 

For Dr Shrapnel, ancient and modern-day AI narratives, from Homer's Iliad to Frankenstein or The Terminator, serve as a reminder that for AI to provide the greatest benefit to all of humanity, the technology must be developed in a fair and inclusive way that respects the values of all life on earth.

"The moral of all these stories, fictional or not, is that humans aren't perfect and if the AI we create is going to be a reflection of ourselves, able to positively augment human potential, we don't want it to be a Frankenstein-like reflection.
 
"I'm forever projecting how far this technology can go and how it can be used for good," Dr Shrapnel said.

"I love through Damien's visualisation of AI, that what we should be aiming for is an extension of our best features as humans and guardians of the earth."
Members of the public can view the mural when the Queensland AI Hub in Fortitude Valley will be open on Saturday 8 May, 10am–12pm. Dr Shrapnel and Mr Kamholtz will be onsite to answer questions about the artwork and collaboration.
This story was adapted from the Queensland AI Hub article 
 
---

Find the UQ–street artist murals around Brisbane:
UQ researcher: Professor Scott Chapman from the School of Agriculture and Food Sciences specialises in putting big data to work in the field of crop simulation modelling – leading teams who combine AI with technologies across different scales (IoT sensors, drone imagery, remote sensing from satellites) to improve adaptation of crops. His work aims to help farmers by matching crop growth and development to our extremely variable climates through linking perhaps our oldest science of agriculture with the newest science of AI.
Street Artist: Madeline Holt  
Location: RNA Showgrounds, Gregory Terrace, Bowen Hills
Date: Sunday 2 May, 10am–2pm| Monday 3 May, 10am–2pm
UQ researcher: Professor Janet Wiles from the School of Information Technology and Electrical Engineering specialises in human-robot interactions, language technologies, bio-inspired computation, visualisation and AI, complex systems modelling in biology and neuroscience, human memory, language, and cognition.
Street Artists: Scott Nagy & Krimsone
Location: Westfield Garden City, corner of Logan & Kessels Road, Upper Mount Gravatt
Date: Saturday 8 May, 10am–2pm | Sunday 9 May, 10am–2pm
UQ researcher: Dr Sally Shrapnel from the School of Mathematics and Physics, an interdisciplinary scientist working at the interface of causality and machine learning. The former GP is currently the lead on an international COVID-19 related study, using AI to predict kidney injury.
Street Artist: Damien Kamholtz
Location: QUEENSLAND AI HUB, The Precinct (TC Beirne Building), Fortitude Valley
Date: Saturday 8 May, 10am–12pm