Entrepreneurs are often told to look for a gap in the market in which to innovate.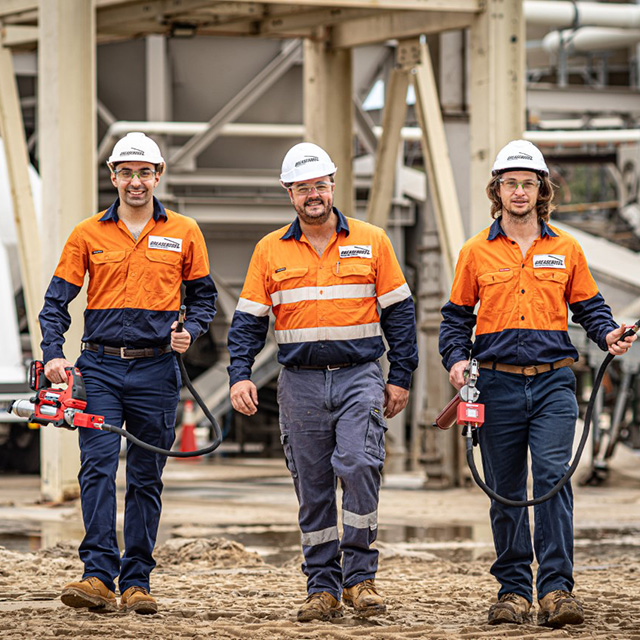 For native Queensland startup GreaseBoss, the proverbial gap was a chasm.
While GreaseBoss co-founder Steve Barnett was on-site at a Queensland copper mine, he witnessed the collapse of a conveyer tail pulley that failed due to lack of greasing.
Nobody died that day, but they could have. 
Mr Barnett presented the issue to UQ Engineering, Architecture and IT alumni Tim Hall and Peter Condoleon, and GreaseBoss was born.
In 2019, Tim Hall completed one of UQ Ventures entrepreneurship courses, Idea Hub, known now as Curiosity, where students and alumni gain the skills and mindset to innovate like an entrepreneur.
What is GreaseBoss?
Like a head mounted on a garden hose, the GreaseBoss module is fitted to grease guns to control flow volume and ensure perfect application every time. The in-built flow meter, scanning head and track and trace technology guarantee workers operating the gun complete greasing tasks to compliance, and maintenance is logged in the GreaseBoss cloud database.
It is a simple solution to a pervasive industry problem that costs around $50 billion dollars per year, which GreaseBoss co-founder and CEO Steve Barnett says the industry has grappled with for many years.
"It is not a surprise that heavy machinery sometimes fails ... the vast majority of unplanned downtime is due to humans not correctly maintaining the equipment 100 per cent of the time," said Mr Barnett.
"These enormous, expensive and vital pieces of equipment are brought down not by a giant iceberg like the titanic, but by a thousand smaller mistakes compounding over time into a big issue."
The young startup has already attracted the attention of several prominent investors and partners, including Brent Watts's 77 Partners, Trent Bagnall's The Melt, and competitive Silicon Valley startup launcher, Y Combinator.
Y Combinator and Beyond
The three-month Y Combinator program took GreaseBoss from pitch to demo and ushered them into the ranks of other Y Combinator alumni: Airbnb, Twitch, Doordash, Dropbox, Instacart.
GreaseBoss was the only Australian startup selected by Y Combinator. The program gave them an entry point into the US market and the chance to accelerate their seed funding round.
GreaseBoss has since raised over $1 million dollars in funding in the United States; Queensland government's Advance Queensland Ignite Ideas Fund awarded the startup with a $100,000 grant to launch GreaseBoss across Australia.
Y Combinator taught the GreaseBoss team many valuable lessons. One of co-founder Tim Hall's biggest takeaways was to sell, sell, sell.
"If your customer is not willing to pay you or commit to paying you for what you are building, you are probably not building the right thing."
"Feedback from industry is so critical and it's important to get it as early as possible. It's far too easy to sit in the office and hypothesise about the needs and wants of industry and get carried away building features that are not really needed."
GreaseBoss recently entered a three-month development phase for their Gen 1.4 product to improve user experience, reliability, manufacturability and general aesthetics.
Bringing Innovation Back Home
Though founded to help solve a global problem, GreaseBoss is very much an Australian company with its roots in local industry.
"The team at GreaseBoss are extremely proud to be a part of the movement to boost innovation in Queensland and to bring manufacturing back to Australia," said co-founder, Mr Hall.
Hall credits UQ with contributing to GreaseBoss's success.
"UQ has definitely contributed through the high-quality education of technical co-founder Peter and myself.
I've noticed other engineers from different universities really don't get the same level of education I received."
For anyone looking to follow in the footsteps of the GreaseBoss team, Hall has some advice.
"… find some good mentors with experience in your field and don't just "chat" with them. Come to them with your biggest problems to discuss potential solutions. Next meeting, aim to come back and tell them how you fixed that issue and what your next biggest problem is."
With their seed funding rounds set to close at the end of April, 2021, the next 12 months will be critical to the company's long-term prospects. But with several prominent investors and industry backers in their corner, the future looks bright for the Queensland startup.