A University of Queensland startup company has secured $240,000 in venture capital to further develop technology focused on the environmental management of mine sites.
Mine-R is a cloud-native platform that uses artificial intelligence to analyse satellite imagery and track a mine site's environmental progress, and was developed by Envirometrics.io – a company founded by research students Roger Tang and Imam Purwadi from UQ's Sustainable Minerals Institute.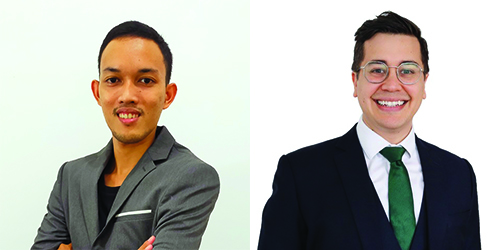 Following the recent investment from Galileo Ventures, Envirometrics.io will proceed with plans to release a prototype of Mine-R and initiate pilot trials.
Roger Tang said the technology would help mining companies plan, predict and implement an effective environmental strategy that would also integrate with mine planning.
"The mining sector has been very receptive to what we are aiming to achieve," he said.
"The industry is currently going through a volatile change regarding technology and policy - globally, companies are adapting to more stringent environmental policies which require more frequent and detailed reporting.
"Alongside this we are seeing a data boom and companies are adopting new digital systems including automation, digital twins and the use of more complex data analysis.
"We can help companies leverage these technologies and provide environmental insights - not only will this reduce risk but will significantly improve efficiency.
"We primarily focus on satellite imagery as it's the most suitable for mining. You can assess huge areas for environmental risks at a fraction of the cost.
"We keep the data insights simple. Mine-R has custom dashboards to track changes and a semi-automated reporting function to make things easier."
In 2021 Envirometrics.io was part of the UQ Ventures ilab Accelerator Program and Roger admits it has been a very busy twelve months.
"Just over a year ago this was still an idea - the ilab Accelerator program was a great experience and now Galileo Ventures are also providing brilliant support."
Read the full article from Sustainable Minerals Institute
---
Environmetrics.io completed the 2021 Ventures ilab Accelerator program and received $10,000 funding to help take their venture to the next level! 
Watch Roger explaining Environmetrics.io for Ventures Founders Series