Article by Alek Zganec (UQ Writing, Editing and Publishing student)
Siobhan Coster—the founder of startup Eclipse and winner of the Judge's Award at the Ventures ilab Accelerator Pitch Night—is working towards a more sustainable future for global nutrition.
Siobhan Coster's burgeoning startup, Eclipse, has set out to transform the food industry and make crucial nutrients cheaper and more accessible.
Eclipse's business model revolves around using precision fermentation technology to produce human lactoferrin as an alternative to cow's lactoferrin and, ultimately, serve to boost the immune systems of an ever-growing global population.
"Right now, we rely too heavily on animals for a lot of important nutrients that we currently get in our food system, and it's pushing our natural resources to the limit," Siobhan said.
Siobhan described how she discovered precision fermentation technology and started to think about how it can resolve the formula scarcity problem.
"I first became interested in the potential of precision fermentation because of my background as a dietician," she said.
"When I was first introduced to the technology and to CSIRO through my MBA at UQ, I saw an incredible opportunity within the food system and particularly around creating nutrients that we need to feed the future of our population.
"I realised that we need to look at alternative ways to support how we manufacture nutrients, so this is a way to do that using a lot less carbon, land, and water."
Siobhan's innovative, ground-breaking business venture, has received praise from investors and potential customers.
"We've had a lot of interest from several different investors, and there's clearly a huge appetite for these kinds of new technology food companies who realise that there's a big problem with our food system and we need to innovate how we do things," she said.
"In terms of consumers, the first potential customers of human lactoferrin have responded fantastically well, whereby infant formula companies are seeing the potential to bring their formula closer to breast milk."
Importantly, the technology has the potential to benefit adults as well as infants.
"Human lactoferrin has so many incredible applications because of its immune-boosting properties, so even outside of infant formula, there's a lot of excitement about the potential within the adult market through supplements and functional drinks," Siobhan said.
"Effectively, through Eclipse we're unlocking opportunities within that market that simply cannot be fulfilled using cow's milk lactoferrin because we're reaching the ceiling of how much lactoferrin we can produce from cow's milk."
The overwhelmingly positive response to Eclipse was echoed at UQ's ilab Accelerator Pitch Night in March 2022, where Siobhan won the Judge's Award.
"It was incredible, I have to say. I did not expect it!" she said.
"Considering the high calibre of founders, pitches, and startups, it's very humbling, particularly to have the amazing judging panel recognise the potential in what we are building at Eclipse."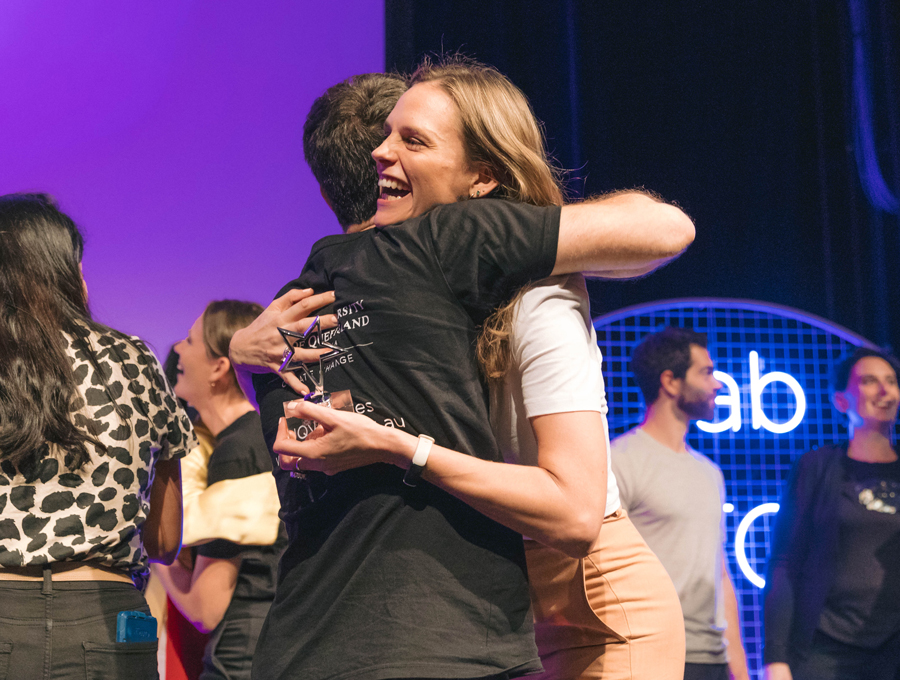 While her business idea has now been realised with resounding success, Siobhan had to traverse an uncertain road to get to where she is today. Aligning her passions of nutrition and business proved a challenge that took some time to surmount. But eventually, just the right mix of experiences and an overwhelming desire to forge something she truly cares about led her to where she wanted to be.
"I was involved in my family's bookmaking business, which is where I got accustomed to managing risk as well as an initial taste of running a business," Siobhan explained.
"Then my passion for nutrition and health led me to studying dietetics. It's been an interesting journey in that throughout it I didn't know where it was going, to be honest!
"When I moved into investment banking, I added that business and commercial aspect to my skillset but realised that this job didn't align with my passions.
"So, it was a massive 'aha' moment when the opportunity for Eclipse presented itself and I found that I could align my goals in nutrition with that of business and building something meaningful. It was the most incredible feeling, and that's why I've chased this with every cell in my body!"
For Siobhan, the ilab Accelerator Program allowed her to combine her ideas, skills and passions.
"I had the support of UQ, the mentors and the other founders and everyone they connected us to," she said.
"I benefited hugely from working with people who have been through this journey, who can give a high-level perspective of things and a few gems of wisdom along the way.
"Through the three months of ilab I had a lot of highs and a lot of lows, so having people with that expertise to tell you to take a moment and celebrate all your small wins and reflect on how far you've come has been invaluable to me."
As for what the future holds for Eclipse, Siobhan couldn't be more optimistic.
"I see us being a global player when it comes to providing highly functional and high-quality nutritional ingredients. Eclipse can be one of the world's leading suppliers of nutritional ingredients!" she said.
Eclipse is currently in the process of scaling up research and development efforts for human lactoferrin production.