Raising her voice to end poverty, inequality or tackle climate change, Runali Maniya's startup SDG Impactors wants you to wear the United Nation's 17 Sustainable Development Goals as a t-shirt to Leave No One Behind.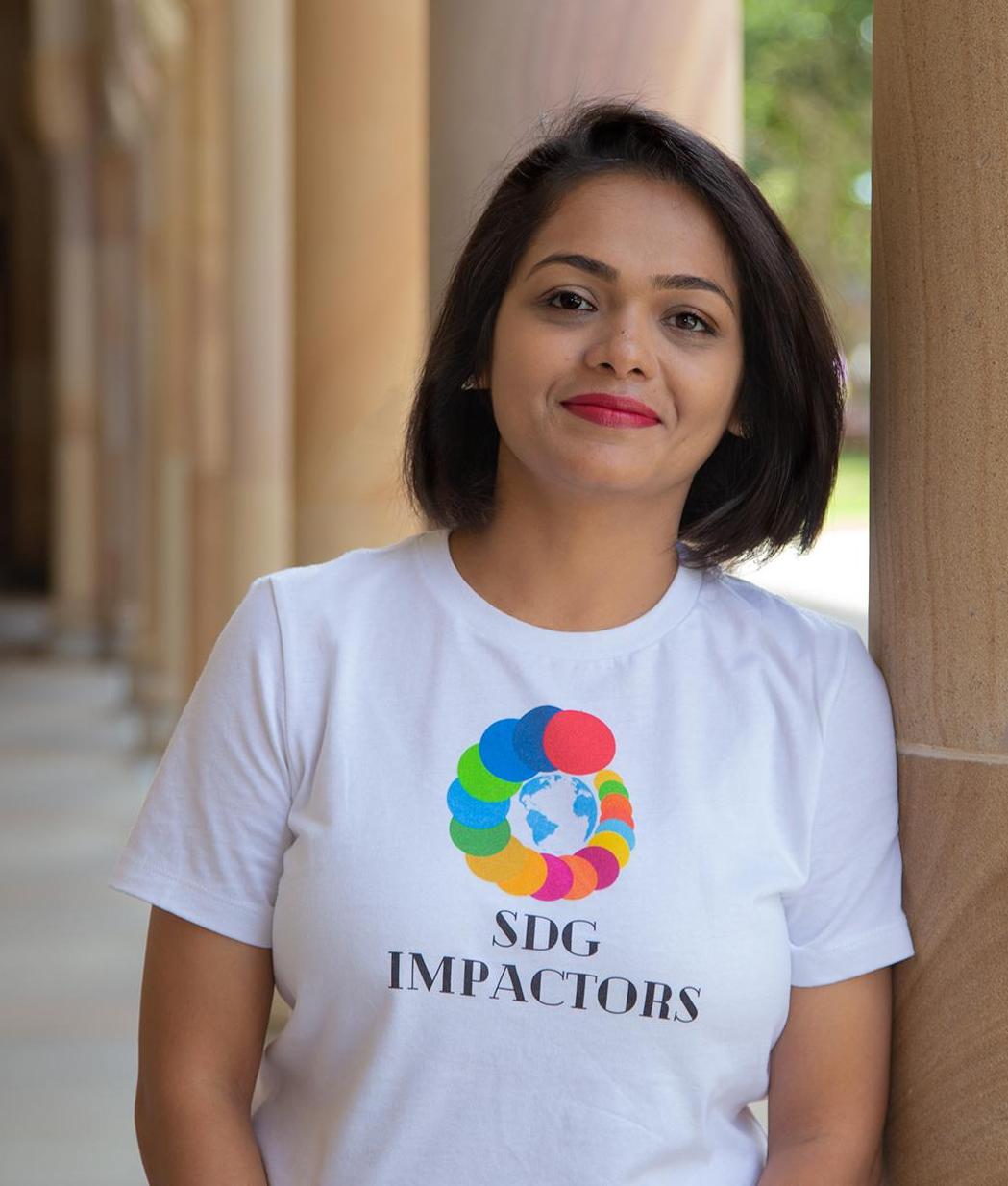 The University of Queensland alumna, Runali (Master of Business '19), moved to Brisbane as an international student for four reasons: the weather, reasonable living costs, the course and the people who taught it. 
Runali says she benefited from the immense resources available to students at UQ.
"I started at the Student Employability Centre as a Student Leader," Runali said.
"I also volunteered my time across various programs as you never know when your volunteering will come back to you three-fold."
For Runali, her efforts returned benefits – five-fold – with a chorus of highly-experienced mentors and committed friends.
She met her mentors while attending courses at UQ Business School or participating in entrepreneurial programs at UQ Ventures.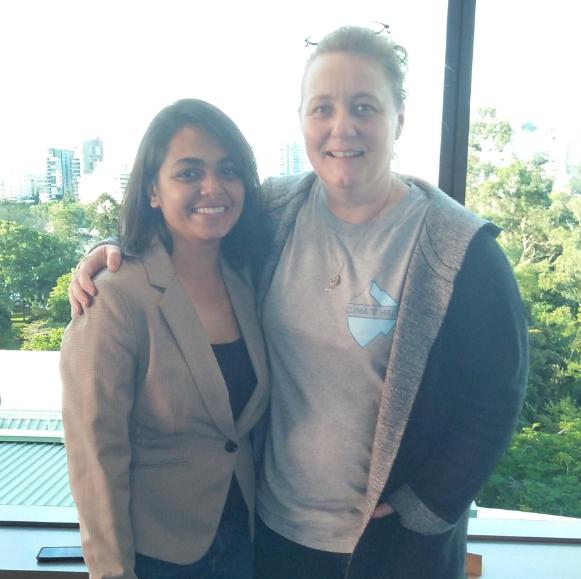 Mentors are political scientist Carol Bond; CEO of a business that supports people living with disability, Trent Dean; COO of a company helping the transition to a circular economy, Jaine Morris; Queensland's Chief Entrepreneur, Leanne Kemp; and, expert business strategist Susan Rallings.  
Runali's mentors help her to grow professionally from building networks to finding her own strength.
However, the sun has not always shined on Runali's experiences. 
In June, Runali lost her job due to COVID-19.
What kept her positive was practising mindfulness, which she learnt from the Business, Economics and Law Wise Leadership course.
"It was extremely tough to build a practice that calmed my mind, at first, but the hard work paid off," said Runali.
"After practising mindfulness, I won the Wise Leadership award, UQ Ventures Startup Academy and Climate Hack QLD."
Runali and fellow UQ Business School alumni Adityo Wicaksono, and Widya Nata Dewi won the Startup Academy pitch for Mookie: a business that hopes to solve hunger and malnutrition during post-disaster emergency periods by providing highly nutritious food for children in the form of bars or biscuits and are now testing Mookie in the local markets of Indonesia.
Startup Academy validates the fit between a student's ideas and market needs while developing a business model for their product or service. 
The process of testing herself in entrepreneurship and leadership helped Runali leap into her big idea – that of raising awareness of the UN's Sustainable Development Goals (SDG) with SDG Impactors.
"In the research process I discovered that people are just not aware of UN's Sustainable Development Goals," said Runali.
"The 2019 World Economic Forum survey showed that only 5 per cent of people in Australia and only 26 per cent globally are very familiar with these goals.
"Anyone can implement these Sustainable Development Goals.
"As an individual, we all have the power to bring positive change into the community."
"It just takes one person, one voice, one action to bring change. If we don't raise our voices change will not happen, when we do raise our collective voices, this action multiplies to the point where things will get noticed and then changed."
And yes, as Runali will tell you 'everyone matters!' So anyone can make an impact.
"In developed nations like the US, Canada, the UK and Australia, 49-50 per cent of people are unaware of the goals," she said.
"This huge gap inspired me to start my social enterprise to spread action-oriented awareness about the Goals."
We usually listen to our hearts, but Runali says people must also dip into how they're thinking and listen to what they're telling themselves. She attributes mindfulness practice as spending time alone, and diving into your head, as even just five minutes can help a lot of people to get answers to their questions.  
After ethically sourcing suppliers, Runali and team designed inspired t-shirts to start the journey at home – where people literally wear the SDGs to spread awareness.
"I chose fashion because what we wear reveals who we are," Runali said.
"People respond to thought-provoking slogans on t-shirts, and the word "smile" on a t-shirt has you actually smiling when you read it.
"I would really like to give back to UQ wherever I can. I have also taken the UQ Founders Pledge to build and support the entrepreneurial ecosystem."
Pro-Vice-Chancellor (Global Engagement and Entrepreneurship) Dr Jessica Gallagher is delighted that the experience Runali had with Startup Academy, and across the whole of UQ, has helped her to build her own social enterprise.
"We truly believe in the value of our Ventures' programs in supporting students to develop their entrepreneurial mindsets – look at problems differently, and being prepared for an increasingly uncertain future," Dr Gallagher said.
 Take part in Ventures' Social Enterprise Impact Series