Helping high schools create entrepreneurial thinkers
About Ventures Discovery
Hands-on, engaging and research-based entrepreneurship programs for high schools.
Innovation, agility and problem-solving skills have never been more relevant. In our Ventures Discovery programs, we strive to foster the mindset needed to adapt to change, be resilient and thrive instead of simply bearing the storm.
We want to prepare our students for a world that is changing fast and to take on problems that keep coming strong. Both experience and research have shown us that an entrepreneurial mindset is an incredible vehicle to grow and practice these skills.
That is what we do best, we teach entrepreneurship to give every high school student the tools required to face uncertain futures.
Why The University of Queensland?
Our research-based programs have been developed following the QCAA and ACARA curriculum and the latest research in entrepreneurship tools and education.
At Ventures Discovery we walk the walk and bring to schools the many lessons we have learnt from building and running a successful university-wide entrepreneurial ecosystem.
When you work with us, you are not only engaging with our facilitators, you will be engaging with the broader UQ community. You will be accessing the many years of accumulated experience, research, and young entrepreneurs that are passionate about solving problems and creating change. You will be able to access mentors, speakers, and judges that will share their stories and are ready to inspire and be strong role models for your students.
Our programs
We bring entrepreneurial skills to schools through our masterclasses and workshops. These programs have been designed to be fun, hands-on and interactive. While our professional development and consultations help facilitate learning and engagement for teachers.
Give your students a full end-to-end entrepreneurial experience with a series of workshops
Supporting educators to deliver up-to-date content in the classroom
Fast facts


5560+
participants in Ventures Discovery activities since 2019


33
local high schools participated in Ventures Discovery workshops


80
international high schools engaged in Ventures Discovery programs
School holiday programs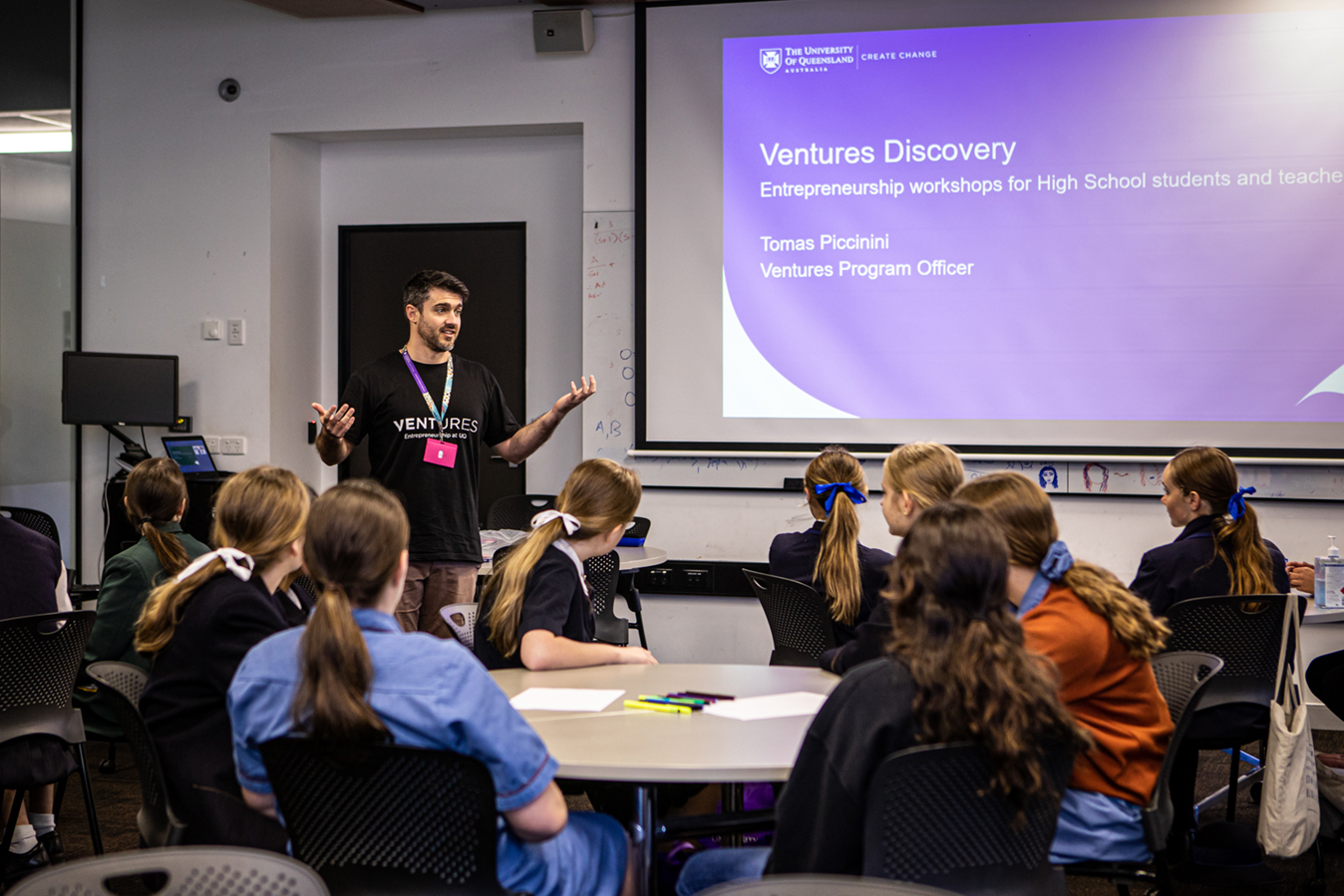 High school students (school years 7-10) are invited to join our Entrepreneurship Camp! These school holidays spend a jam-packed day of fun at The University of Queensland and learn how to use design thinking to create innovative ideas.
Meet new friends with shared interests in designing and creating new products and services.
Have fun while learning new skills through hands-on activities.
Learn how to make your ideas come to life!
Date: 8 July 2021
Time: 8:30am – 3:30pm
Cost: $60 per student (incl. morning tea and lunch)
 
gen[in] Student Innovation Challenge
The gen[in] student innovation challenge helps globally-minded students aged 14-24 years to build real-world skills, make lifelong connections and give students the chance to win a share in a $15,000 prize pool.  
gen[in] is fully funded by Trade and Investment Queensland (TIQ) and was developed by a consortium led by The University of Queensland and supported by education providers, industry professionals and government partners.
Visit the gen[in] website for more information or contact gen[in] Project Manager, Sally Dwyer at sally.dwyer@uq.edu.au.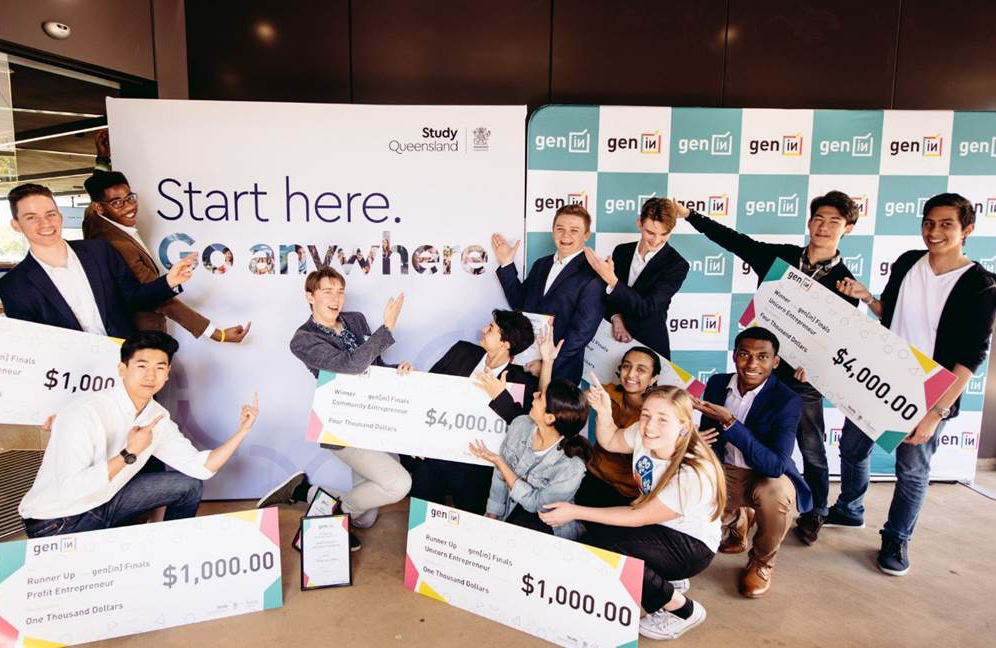 Why does Australia need more entrepreneurs?
Starting your entreprenuerial journey can come with a lot of questions.
What is entrepreneurship?
What does an entrepreneur do?
and why is it important to have more entrepreneurs in Australia?
This video explains just that, and gives you an idea of what it means to be an entrepreneur who creates change. Visit the UQ Ventures YouTube channel and explore more content including our startup stars, live pitches, and self-paced videos.